Students give up a day for Leicester
Published on Friday, March 1, 2019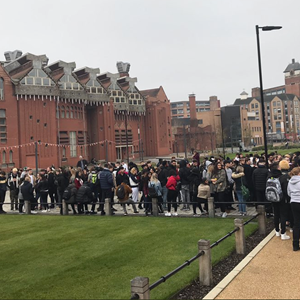 HUNDREDS of students are heading out across Leicester today (Friday) in what will be De Montfort University's biggest-ever one-day volunteering event.
Called A Day for Leicester, the event will see students from DMU's Faculty of Business and Law work on 41 different projects in community centres, neighbourhood centres and libraries across the city.
Activities will include helping out at a lunch club in Belgrave, removing stickers from street furniture, supporting neighbourhood surveys and clearing rubbish from community spaces. They will also be meeting community leaders and residents and looking for further volunteering opportunities.
The event is being jointly organised with Leicester City Council's neighbourhood services team, which has worked with residents to decide which projects should be worked on during the day.
Bus company Arriva has also stepped in to offer those taking part free travel across Leicester for the day.
Angie Worwood, senior lecturer in enterprise, said: "We realise the impact students have upon Leicester, not just economically but also environmentally.
"Students who are from Leicester and those who have come here to study are really proud of the city and this event will allow us to put words into action and make a difference to city communities.
"It will also allow us to meet residents and staff who work around the city and get ideas for future projects that we can support."
The event began on campus this morning, with students gathering there before heading off to locations across the city.
Assistant city mayor for neighbourhood services Cllr Kirk Master joined the students to thank them on behalf of the city council.
"We're very grateful to the hundreds of DMU volunteers who are giving up their time to make a difference in their community," he said.
"By helping to tidy up public spaces across the city, engaging with community groups and supporting our work with neighbourhood surveys, they are showing how much they value being part of our city.
"We appreciate their efforts very much – and hope that DMU's 'Day for Leicester' will be a very successful one for everyone involved."