Walkers step out for charity
Published on Monday, February 25, 2019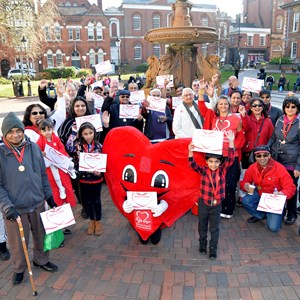 WALKERS converged on Leicester's Town Hall Square at the weekend (Sat 23 Feb) in support of a heart charity.
About 50 walkers – made up of people who have previously suffered from a heart complaint or medical condition, and their families – wore red to show their support for the British Heart Foundation.
Many of the walkers had taken part in the city council's Heart Smart and Active Lifestyle schemes. Both schemes are run in conjunction with city council leisure centres and health professionals to help people with medical conditions to adopt a more active lifestyle.
Participants started out from city council leisure centres and walked into the city centre. On arrival at Town Hall Square, they ended their journeys with a celebration event, receiving certificates and medals to mark their achievements.
Deputy city mayor Cllr Adam Clarke, who leads on public health and the environment, said: "If you've suffered from a heart problem or medical condition it can be hard to take those first steps towards a healthier lifestyle. Yet something as simple as walking or cycling can do so much to improve your general health and wellbeing.
"I'm very pleased that we can use our leisure facilities and staff expertise to support people who want to get more active following a health problem. Events like this one also help to raise awareness of the significant dangers of heart disease, as well as the important work of the British Heart Foundation."
To find out more about getting active in Leicester, visit www.leicester.gov.uk/activeleicester
(ends)