Young people get chance to make music on the Saff
Published on Thursday, February 14, 2019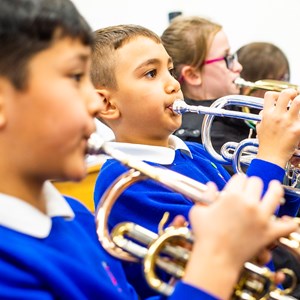 A COMMUNITY youth music organisation which helped create Leicester's only youth brass band is running a band camp to give other local youngsters the chance to share the limelight and perform with some of the best local brass musicians and artists.
Drum and Brass, a community arts and music organisation behind the creation of city youth brass band Brass of the Saff, is running the two-day Saff Band Camp during the school half-term holidays, giving young people aged from eight to 18 the chance to get involved in music making.
Last year, Drum and Brass successfully launched an appeal as part of City Mayor Peter Soulsby's Crowdfund Leicester appeal, to raise money to buy 60 new brass instruments and uniforms for the Brass Of The Saff – a youth band comprising primary school pupils from Marriott Primary School.
Next week's Saff Band Camp coincides with the arrival of the first of those new instruments, and will offer workshops and sessions as solo performers or as part of a full band, exploring brass beats and rap among other styles.
The Saff Band Camp takes place at the Kingfisher Youth Centre, in Boulder Lane on the Saffron Estate, on Tuesday, February 19, and Wednesday, February 20, from 10am to 3pm each day. The highlight will be a concert for family and friends at 2pm on Wednesday.
Tickets for the band camp must be booked and participants should bring a packed lunch. For more information about ticket costs and to book visit Eventbrite. 
City Mayor Peter Soulsby and Saffron ward councillor Elly Cutkelvin will be among those visiting the band camp on Tuesday, February 19, to see the initiative at work.
Brass Of The Saff originated from Marriott Primary School's decision to offer brass playing to three of its year groups, but has now grown into a band with the support of Drum and Brass, the Leicestershire Schools Music Hub and Southfields Concert Brass Band.
The band won the title of Band Showing Most Potential at the National Youth Brass Band championships in Warwick, and supporters now hope the crowdfunding will help Brass Of The Saff become established as a permanent youth band with a clear progression and leadership, as well as enabling it to record and release a CD of its music in summer 2019.
So far, their appeal, hosted by crowdfund site Spacehive, has raised more than £8,000.
City Mayor Peter Soulsby said: "I am very pleased with the success of the Brass Of The Saff, and I am delighted that we can support them through Crowdfund Leicester.
"The whole idea of Crowdfund Leicester is to encourage and promote worthy local causes, of which this is clearly one. The work it does is helping to enrich and transform the lives of the children involved, increasing their confidence and developing new skills.
"The Saff Band Camp next week is a fantastic chance for people both to see the progress that they've made, and to get involved."
Marriott Primary School is continuing to support the scheme through providing Brass Of The Saff with a venue, staff and premises in which to practice.
Saffron ward councillor Elly Cutkelvin added: "It is wonderful to see so many local primary school children taking part in this scheme, and discovering the fun and learning involved in playing in a community brass band.
"The positive impact of this is felt well beyond the school itself, and is a real source of pride across the wider community."
The next steps for Drum and Brass including launching the Brass Of The Saff band, playing its first concert, setting up a management committee and performing once again at the National Youth Brass Band Championships.
Drum and Brass project manager Julie Maxwell added: "All the team here look forward to a fun couple of days with all our players."
More details on Crowdfund Leicester are available here.
(Ends)