City Mayor thanks team that makes Leicester sparkle at Christmas
Published on Wednesday, January 30, 2019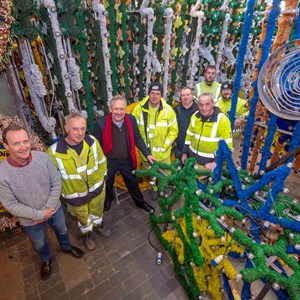 THE TEAM responsible for the twinkling lights, festive trees and colourful garlands that decorate Leicester city centre each Christmas were thanked by City Mayor Peter Soulsby today (Wednesday 30 January).
The City Mayor visited the street lighting team at their Slater Street depot to meet the staff who start planning for Christmas in January each year – and to see the stores where the city's decorations are carefully stowed away when the festivities are over.
Members of the team – who also look after the city's Diwali, Eid, Vaisakhi and Chanukah decorations as part of their street lighting duties – showed the City Mayor around the stores and introduced him to the contractors who work with them to make sure Leicester sparkles at Christmas.
"For such a small team, our street lighting team has a huge impact on the look and feel of our city," said the City Mayor.
"From selecting the Clock Tower tree, to buying new decorations for the city's main shopping streets – and from replacing blown bulbs to installing the traditional crib in Town Hall Square – the lighting team makes sure that the city centre is a magical place for shoppers and visitors at Christmas.
"When you consider that the festive decorations have to be installed as part of the team's regular responsibilities for street lights and traffic signs, you begin to appreciate just how much work and effort is involved.
"Members of the team do a tremendous job each year, so I was very pleased to be able to visit them at the depot and pass on my thanks on behalf of the whole city."
While some towns and cities have cut back on their festive decorations, Leicester has continued to invest in its Christmas lights.
Last year – as in the previous four years – the council spent an extra £50,000 updating the city's stock of decorations and replacing worn-out fixtures and fittings.
More than 16,000 lamps lit up the city, with decorations spanning 15 city centre streets.