New 20mph zone for area around Montrose Primary School
Published on Monday, January 28, 2019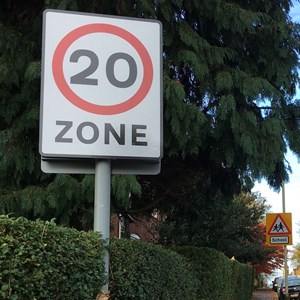 A NEW 20mph zone and traffic calming measures are due to be introduced in streets around Montrose Primary School, Aylestone.
The plans will build on the existing traffic calming measures on Wigston Lane, and will extend to dozens of nearby streets, as part of a programme of traffic-calming works carried out by Leicester City Council.
Residential streets bordered by Glenhills Way to the south and Aylestone Road to the west will be included, as well as streets south of Duncan Road and west of Saffron Lane.
It means the new 20mph scheme will link up with existing zones around Marriott Primary School, and Granby Primary School.
Existing traffic calming measures on Wigston Lane will be added to with additional central islands and speed humps further along the road, as well as new speed cushions in Aylestone Drive and Milligan Road, Burnaston Road, Alton Road and Belvoir Drive East.
Work on the scheme is due to get underway with detailed designs drawn up and installed by April, and the scheme operational by May 2019. It is expected to cost about £64,000 from the city council's Transport Improvement Works Programme 2018/19.
It follows consultations with local residents and businesses in which 74 percent were in favour of a 20mph limit, and 57 percent backed traffic calming measures.
(Ends)