Programme showcases Leicester's heritage
Published on Tuesday, January 8, 2019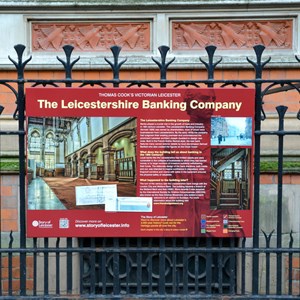 A PROGRAMME of work is set to highlight Leicester's heritage through information boards, displays and public art.
Leicester City Council is investing £300,000 to build on existing heritage interpretation, extending the range of historic sites, buildings and key characters from the city's past that will be brought to life, particularly in the city centre.
Funding for the project will come from resources set aside under the city council's Economic Action Plan.
Proposals include extending the 112 existing heritage interpretation panels in the city centre to other neighbourhoods, for example focusing on the old Turkish Baths in Friar Lane and highlighting the work of important city architects Arthur Wakerley and Ernest Gimson.
There are also plans to use digital technology to make information and stories available via mobile devices. The plan, focusing on the Old Town and drawing on the Roman, medieval and Victorian eras, could allow visitors to access voice recordings, images, sound effects and even view recreations of long-gone buildings.
A second branch of work will support curated displays at New Market Square, including the projection of heritage information onto the large screen wall at the rear of the historic Corn Exchange building.
Meanwhile, a third area of work will include a heritage-themed public art installation on the newly-revealed walls created by the demolition of Dolphin Square and the creation of the new link between Town Hall Square and the market.
The city council is also planning to attract match funding from outside organisations in addition to its own £300,000 investment, in order to develop and expand the work further.
Consultation with key stakeholders and the public will help determine the exact subject matter and focus for each of the work strands.
Leicester Deputy City Mayor Piara Singh Clair said: "Leicester has 2,000 years' worth of fascinating stories to tell, and this heritage interpretation work has proved to be a popular and easy-to-access way visitors and residents alike can find out more.
"The city has a wealth of Victorian architecture, as well as notable medieval sites and some impressive Roman remains, all of which play an important role in the city's history and identity.
"The creation of New Market Square, and the soon-to-be-completed link between Town Hall Square and the market, mean we have additional public space which could be ideal for this purpose."
The latest projects are designed to build on the success of the popular heritage interpretation work carried out across the city from 2013-2017. Those focused on key eras of Leicester's history using a colour-coded system, and have proved popular with residents and visitors alike.
The work content has been used to help shape and deliver the Story of Leicester website (www.storyofleicester.info)
Some subjects, such as King Richard III and Thomas Cook, have resulted in the development of bespoke heritage trails, accompanied by supporting information booklets and online resources.
(Ends)