'Smart' revamp for traffic signs on key city routes
Published on Thursday, January 10, 2019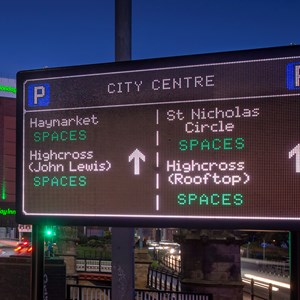 NEW 'smart' signs are helping to give motorists the most up to date traffic information on some of the busiest routes in Leicester city centre.
Leicester City Council has invested £230,000 in four full screen electronic variable message signs (VMS) that will be permanently located on key routes into the city centre.
The new low energy LED signs – which are linked directly to the city council's area traffic control room – can be used to display a wide range of traffic-related information, from details about spaces available in the city's main car parks to real-time updates about any emerging issues on the roads.
The first three signs are now in place on St Augustine Road (at its approach to St Nicholas Circle), on Belgrave Gate (close to Burleys flyover roundabout); and on Humberstone Road (close to St Georges Way roundabout). A fourth sign is due to be installed on Vaughan Way in the spring.
City Mayor Peter Soulsby said: "The smart technology now available for traffic signs allows us to offer a much more responsive information system that will help make life much easier for motorists travelling into the city centre.
"Along with our network of 24 electronic parking signs, the new full-screen VMS signs will help provide up-to-the-minute information to help take the hassle out of finding a space in the main city centre car parks.
"They can also be used to quickly inform drivers about any emerging problems on the roads, and suggest alternative routes if needed.
"This is part of our ongoing 'Legible Leicester' programme of investment to make it easier for people to explore the city and its attractions."
Along with the new fixed signs, four new mobile VMS signs have also been bought at a cost of £105,000. These can be moved to key locations and traffic hotspots across the city to inform drivers of delays, roadworks or diversions as required.