Traffic-calming and 20mph zone to be installed in Goodwood
Published on Wednesday, January 16, 2019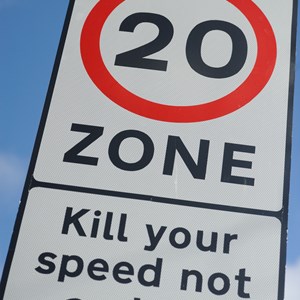 WORK is due to get underway installing a 20mph zone and traffic-calming measures in a Leicester community.
The new 20mph zone is being introduced in Goodwood, in the streets around Davenport Road, following a public consultation with local residents.
Speed cushions will be installed at four sites along Davenport Road.
Installation work begins on the week commencing January 21, with Davenport Road between Spencefield Lane and Gamel Road closed for up to three days off-peak between 9am and 3pm.
Diversion routes will be signposted locally, and advanced warning signs will be put in place. The scheme is due to come into effect on Monday, January 28.
A public consultation on the scheme was carried out last year. Of those who responded, 85 per cent backed the 20mph and 72 per cent supported installing traffic-calming measures.
The scheme costs about £25,000 and includes Greystone Avenue, Withcote Avenue, Westmeath Avenue, Walshe Road, Davenport Road, Bayham Close, Gamel Road, Goodwood Crescent, Harringworth Road, Nelot Way, Skampton Road, Oakside Crescent, Sunnyfield Close, Oakside Close and Beechwood Close.
It is the latest in a programme of work to install 20mph zones in residential streets across the city where requested.
(Ends)