Young people investigate mental health services
Published on Friday, February 15, 2019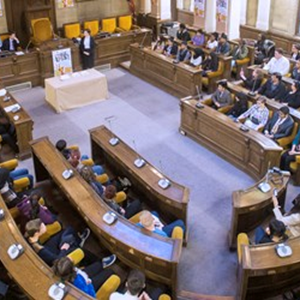 YOUNG people are conducting a select committee-style investigation into mental health services in Leicester.
The city's Young People's Council (YPC) has decided to look into the subject following a consultation of more than 3,000 young people across the city, asking them what issues they would like the YPC to campaign on. Mental health came out as the top issue.
On 18 February, the YPC will hold an evidence-gathering day, where a panel of young people will question selected 'witnesses' to find out more about what it's like to have a mental health problem in Leicester, and what sort of help young people should expect. They'll also be reviewing written submissions from parents, young people and experts who work in the field.
After their investigation, the YPC will record their findings, with recommendations, in a report to be presented to local decision-makers.
The Young People's Council is an initiative supported by Leicester City Council's youth service, allowing young people aged from 11 to make their voices heard and participate in local democracy.
Young people are elected to the council every two years in a city-wide election, with other representatives co-opted from groups representing young carers, disabled children and children in care.
Claudia Osborne from the Young People's Council said: "We're gathering evidence and accounts from all the different stages in someone's mental health journey, looking at it from the perspective of mental health workers, parents, peers, the person seeking help, teachers and so on. We will compile all this evidence into an enquiry that will be fed back to local politicians.
"As well as making recommendations about this important issue, we wanted to share what the YPC is doing in Leicester and show what we get up to as a council after we are elected."
Deputy city mayor for children, young people and schools Cllr Sarah Russell said: "The availability of good mental health services for young people is a hugely topical issue. We know that unfortunately, more and more young people are experiencing mental health problems and there is more pressure on services.
"I've already been hugely impressed by the dedication and professionalism of our YPC, and I very much look forward to seeing the results of their investigation."
(ends)