Apprentices celebrate achievements at graduation ceremony
Published on Monday, July 1, 2019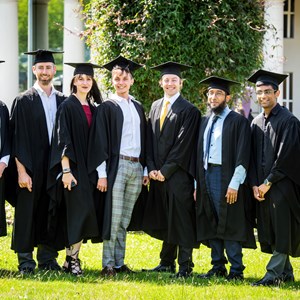 HUNDREDS of people who have successfully completed an apprenticeship in the past 12 months have been celebrating their achievements at a graduation ceremony.
The ceremony – now an established annual event – took place at De Montfort Hall on Friday 28 June. Each apprentice was personally called up onto De Montfort Hall's stage to be congratulated by the Lord Mayor, Cllr Annette Byrne, and Professor David Mba, pro-vice chancellor for enterprise at De Montfort University.
The event was hosted by the city council's employment hub, which works directly with employers and job seekers to offer pathways into apprenticeships, training, work placements and employment.
More than 200 businesses which support apprentices were also invited to attend, along with family and friends of the graduates.
Awards were given out for Intermediate Apprentice of the Year (sponsored by Leicester College), Advanced Apprentice of the Year (sponsored by Leicester College), Higher Apprentice of the Year (sponsored by De Montfort University), and Employer of the Year (sponsored by the Employment Hub).
Musical theatre students from Leicester College supported the event with a variety of musical performances.
Assistant city mayor Cllr Mustafa Malik, who leads on jobs, skills and communities, said: "Attracting and retaining skilled workers – and the businesses that employ them – is a key priority for a healthy and prosperous city economy. It's great to see local employers helping to drive this prosperity by investing in their staff and getting involved in apprenticeship schemes.
"I'd like to congratulate all of the apprentices who graduated at this ceremony on their hard work, and thank the businesses who have done so much to support them."
Tracey Waterfield, employment hub manager, said: "This is our fifth annual graduation ceremony for apprentices, where we have been able to demonstrate to employers the value of skills delivered through employing apprentices.
"Each year we get very good feedback from those who take part in this event, which gives apprentices and employers alike the chance to celebrate their achievements."
For more information on Leicester Employment Hub, visit www.leicesteremploymenthub.co.uk
(ends)