Children's summer holiday clubs to offer food and fun
Published on Monday, July 15, 2019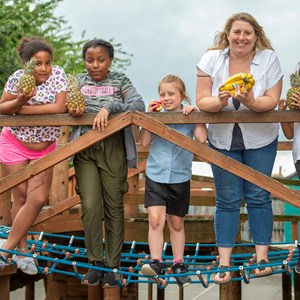 LEICESTER'S adventure playgrounds and community groups are all set to host thousands of children for fun activities and a free packed lunch this summer, as part of a city council-led scheme.
Under the banner of Feeding Leicester, the council is working with partners including Fareshare East Midlands and local charities to provide holiday clubs across the city where youngsters can enjoy good food as well as range of activities, all free of charge.
Last year the council and partners provided more than 30,000 meals to children during the school summer holidays.
This year eight healthy holidays clubs will operate at a range of venues in Highfields, St Matthews and Beaumont Leys. And all nine of the city's adventure playgrounds will also be offering free packed lunches thanks to Fareshare.
The city council is putting in £30,000 towards the cost of the clubs, despite receiving no government funding for the scheme this year. De Montfort University has donated £5,000, as well as providing student volunteers to help run the clubs. National charity Feeding Britain has provided £6,000, including £1,000 raised through Crowdfunding, and Brakes charity has provided almost £4,000.
Cllr Sarah Russell, Leicester's deputy city mayor for children's services and anti-poverty said: "We don't want any child in Leicester to go hungry, but it's estimated that three million children in the UK are at risk of this in the school holidays, with the long summer break putting extra pressure on families already struggling to cope.
"The holiday clubs and adventure playgrounds will give children the chance to have a healthy meal as well as enjoy lots of fun things to do. These are in addition to the hundreds of free activities the council is offering at children's centres, parks, museums and other places across the city."
The healthy holiday club initiative is one of a number of ways the city council is working to reduce the impact of poverty, improve lives and help children to reach their potential.
Other initiatives taking place over the summer include Get up and Go sessions to get families active in the council's children's centres; City kids' swim for a quid sessions in council leisure centres; and family fun days in council libraries.
Full details of the healthy holiday clubs and other activities are available at https://families.leicester.gov.uk
Fareshare redistributes surplus food from supermarkets and other companies to charities and community groups across the East Midlands. Feeding Leicester is a multi-agency group chaired by Leicester MP Liz Kendall which aims to tackle food poverty in the city.