City hosts playdays and family festivals this summer
Published on Friday, July 12, 2019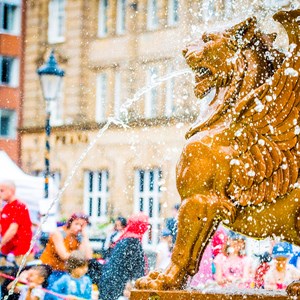 FAMILIES can have fun and find out more about the huge range of activities on offer in children's centres and other council venues this summer by visiting mini playdays in Town Hall Square this Wednesday (17 July) and next Wednesday (24 July).
Families will have the chance to pick up information and talk to children's services' staff about what's on offer over the school holidays, as well as enjoy free activities.
These will include sessions led by Leicester City Football Club coaches, hook-a-duck from the fountain, and a visit to Leicester Libraries' Bookbus, which will be parked in the square.
The mini playdays will run from 11am to 2pm.
National Playday will be celebrated in Town Hall Square on Wednesday 7 August, with a wide range of free activities running from 11am to 3pm.
This popular annual event will include storytelling, craft activities, skipping, hula-hoop fun, and a climbing wall challenge. There will be a play area for babies, mindfulness and yoga sessions, and the Bookbus and hook-a-duck will be back again.
Cllr Sarah Russell, deputy city mayor responsible for children's services said: "Our national Playday celebration in Town Hall Square has become a really popular event, so this year we've added in mini-playdays to take place over the summer holidays, as a way of promoting all of the great activities going on in council venues.
"We've also got some new family festivals on the parks this year which we have been able to make completely free - along with many other events in the city - to help out families facing the added costs that come with the long school holidays."
The first of these new events takes place on Abbey Park on Wednesday 14 August, with the Get up and Go family festival, running from 11am to 4pm near to the Oval. Activities will include many of those on offer at the playdays, as well as Zorbs and sessions led by Leicester City Football Club, Leicester Riders and Leicester Tigers.
It's the turn of Victoria Park to host another family festival, this time with input from the council's youth services team, on Wednesday 21 August. Also running from 11am to 4pm, one of the highlights will be the launching of a 'moon rocket' made by young people and Soft Touch Arts to mark the 50th anniversary of the Apollo moon landing.
Activities on offer will range from a Space Hopper challenge and archery to baby stay-and-play sessions. The coaches from LCFC, Leicester Riders and Leicester Tigers will be back again, as will the Zorbs and popular climbing wall.
More details of children's centre activities, and other free things to do in the city over the summer are available at https://families.leicester.gov.uk
The playdays and other activities are among a number of city council initiatives aiming to reduce the impact of poverty, improve lives and help children to reach their potential.