Cycle to work and get a free breakfast!
Published on Wednesday, July 31, 2019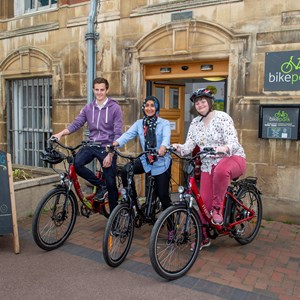 USE pedal power to get to work on Cycle to Work Day and you can get a free breakfast pastry and drink.
To celebrate the national event next week, the city council is promoting a number of initiatives to make cycling to work an easy and appealing option.
Anyone who arrives at the council's Town Hall Bike Park between 7am and 10am on Thursday 8 August – Cycle to Work Day – can collect a token for a free breakfast item from the Leicester Coffee House Company, on Granby Street. Cyclists will be able to choose from breakfast pastries or croissants, plus a hot or cold drink.
The Town Hall Bike park provides secure bike parking for just £1 a day. Gold-standard bike locks, priced at £15, will also be available to buy from the Bike Park.
New or returning cyclists who are unsure about commuting by bike can team up with a bike buddy – a regular cycle commuter who will help by showing them their route into work. On the morning of 8 August, bike buddies will wait at checkpoints across the city to pick up any cyclists who would like to join them on their journey into work.
They'll meet them at the Town Hall Bike Park later in the afternoon for the return trip.
Checkpoints will be available in Birstall, Rothley, Belgrave, Narborough, Blaby, Wigston, Hinckley Road, Thurnby, Evington and Victoria Park.
Find your nearest checkpoint on the Choose How You Move website.
In the run-up to Cycle To Work Day, free Dr Bike safety sessions are also being held across the city, so anyone with a bike that needs tuning up can get it checked over, with any minor problems fixed for free.
Dr Bike sessions are being held at Bede Park, on the Great Central Way, from 8-10am on Monday 5 August and from 4-6pm on the same day, Monday 5 August, on Victoria Park, close to the University of Leicester's Attenborough building.
On Wednesday 7 August, Dr Bike will be at the National Space Centre from 8-10am and on the plaza outside Mattioli Woods' offices, in King Street, from 4-6pm.
And there's a chance for participants to earn a second free breakfast by cycling to work at least twice between 9 and 16 August. Present your bike to the Town Hall Bike Park staff on each day you cycle to collect one stamp, and after collecting two stamps, exchange it for a free pastry or croissant at the Leicester Coffee House Company.
Deputy city mayor responsible for environment and transportation, Cllr Adam Clarke, said: "We're pleased to be supporting Cycle to Work Day. Cycling is a great way to get around Leicester, because even the longest journeys within the city tend to only be about half an hour away from the centre by bike. It's often the quickest way to get around.
"By joining up with a bike buddy, you might find that your journey into the city centre is quieter and easier to ride than you think. We continue to invest heavily in improvements to cycling routes, to make them safer and more appealing.
"Increasing the number of daily cyclists helps to address the climate emergency. Swapping to a cycle commute also helps to improve local air quality, as well as benefitting your own health and wellbeing."
For checkpoint locations, meeting times and more information about Cycle to Work Day, visit www.choosehowyoumove.co.uk/C2WD
(ends)