Drug and alcohol recovery centre marks its first year of work
Published on Monday, July 1, 2019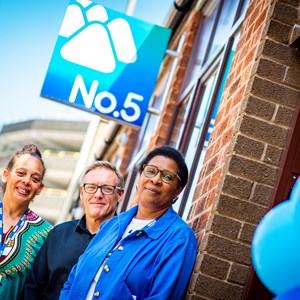 A NEW drug and alcohol recovery centre in Leicester has received almost 8,000 visits by people seeking help and advice since it opened its doors last year.
No.5, based in Hill Street, off Humberstone Gate, opened in spring 2018, relocating alcohol services previously offered at the Anchor Centre in Dover Street, with newer purpose-built facilities housing a range of other support services.
Joint funding of £600,000 from Leicester City Council and Public Health England was used to open up No.5, which was commissioned by the city council and the police and crime commissioner for Leicestershire, as part of a joint approach to tackle street drinking in the city centre.
The service is run by Inclusion Health Care CIC with support from peer-led recovery service Dear Albert, and now caters for about 120 service users who attend at least once a month, with about half of them attending at least twice a week to access support, advice and help.
It provides services from organisations including substance misuse treatment service Turning Point, the Department of Work and Pensions, Restorative Justice and Inclusion Healthcare itself which provides GP services for socially excluded, vulnerable and homeless people.
On average, 35 people every day come through No5's doors for treatment or help, some of it as a one-off and some as part of longer-term assistance.
Between April 2018 to March 2019, No5 received 7,932 visits from people seeking support and advice in some form, either as a one-off or for longer-term help.
No.5 also provides support and referrals for One Roof's Winter Night Shelter from December to March, and offers service users a safe place to stay during the day.
In addition it acted as a base for Inclusion Healthcare to deliver winter flu vaccinations to rough sleepers, by working closely with Leicester City Council's outreach team.
In all 25 people were vaccinated – about 60 percent of the city's rough sleepers at the time – and attended No.5 for hot drinks and a hot breakfast.
Volunteers at the centre have also offered IT advice and support, with plans to further expand services to include cooking sessions, mindfulness and relaxation, and art and craft workshops.
Assistant City Mayor for Health, Cllr Vi Dempster, was among those seeing the service in action during an anniversary event at No.5 on Friday, June 28.
She said: "Drug and alcohol problems can, and do, severely blight the lives of people from across the community, and services like this play a vital role in helping them get their lives back together.
"Often the situation is complicated by physical and mental health problems, difficulties in keeping down a job or stable housing, and the strength of services like No.5 is the range of help on offer to tackling the often complicated situations in which people find themselves.
"No.5 offers a discreet, but easily-accessible service close to the city centre, to ensure people who need help can get it."
Wayne Henderson, director of specialist services at Inclusion Healthcare, added: "This is a unique service in Leicester for people who are homeless and have alcohol dependency issues.
"Inclusion Health are proud to be delivering this service on behalf of Leicester City Council to an often misunderstood and excluded group of people. 
"We work closely with our partner agencies to help those with alcohol and homelessness issues to improve their lives and reduce the negative impact alcohol has had on their lives".
Two regular service users at No.5 shared their stories of how they had been helped.
One, a 42-year-old man, has been accessing help from the city's alcohol services since 2008, as well as suffering with a range of mental and physical health problems, which have left him without work or a place to live.
He attends daily harm reduction sessions at No.5, and since 2018 has worked as a volunteer helper at the centre, also beginning a Peer Mentoring Course to help other service users. He has been free from alcohol for 12 months and regularly visits the gym.
He said: "My current health is improving; I have more energy to do things.  Although I recognise I suffer with depression, with personal focus and the support of No.5 I manage it much better.
"Since volunteering it has given me more structure in what I need to do in my pathway to recovery."
Another long-term service user is a 46-year-old woman, who referred herself Turning Point for alcohol dependency after a stay in the Bradgate Mental Health Unit.
She now attends twice weekly sessions at No.5 for additional support, and has now been free from alcohol for over three months thanks to a recovery programme developed between Dear Albert and No.5.
She said: "I have managed to begin to save money and book a holiday with family. I have also joined the gym and to date lost 1st 4lb, and feel much better for it.
"I'm eating healthier, sleeping better and have much better awareness. Through taking action I feel like I'm getting my life back.
"The group sessions that I have attended have helped me get my confidence back, learn about my illness and change my attitude."
(Ends)