Free family activities in Leicester this summer!
Published on Wednesday, July 10, 2019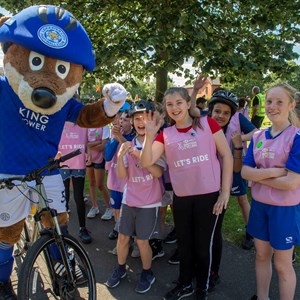 THERE'S lots going on in Leicester this summer to keep kids of all ages busy – and the good news for local families is that many activities are completely free of charge.
From free tennis coaching to story-telling, and from bike rides to an outdoor showing of a Star Wars favourite, there's a free activity for every toddler and every teen in Leicester this summer.
A programme co-ordinated by the city council shows dozens of free activities that will help families get out and about during the school holidays ­­– and while most of the events have been organised or funded by the council, the list also includes free activities put on by other local organisations.
Deputy city mayor Cllr Sarah Russell: "Anyone who looks after children will know how difficult it is to find things to do in the school holidays that are both fun and affordable.
"By pulling together a list of all the free activities that will be taking place in Leicester this summer, we want to help families get out and about and enjoy time together, without worrying about the cost.
"There are dozens of activities you can do in our libraries, museums, children's centres, parks and open spaces that are completely free of charge – and that could be an organised event, like a football coaching session, or something as simple as listening to a band in a shady park.
"I hope these ideas for things to do will help keep children and young people active during the school holidays – and help make life a little bit easier for families in Leicester this summer."
The first weekend of the school holidays includes free crafts and activities at the opening of New Walk Museum's summer exhibition, The Wonderful World of the Ladybird Book Artists (from Saturday 13 July), as well as the festival of Rathayatra (Sunday 14 July), which will feature a colourful city centre procession (11.30am) and a free event in Cossington Street recreation ground.
From Monday 15 July, a four-week programme of Family Fun Days gets under way at Leicester's libraries, with each event inspired by the Space Chase summer reading challenge. Kicking off at Highfields Library on Monday, the programme continues at St Barnabas Library on Tuesday (16 July), New Parks Library on Wednesday (17 July) and the Pork Pie Library on Thursday (18 July).
There's also a whole summer of activities planned as part of Get Up and Go – the free city initiative that aims to encourage children, young people and their families to be more physically active.
On Wednesday (17 July), families can pick up a free Get Up and Go passport at a mini play day event in Town Hall Square (11am – 2pm) and find out about a whole host of activities and events that will keep them active this summer.
There's a special treat for Star Wars' fans on Friday 19 July, as Jubilee Square hosts an outdoor screening of Rogue One: A Star Wars Story (12A). Part of Bid Leicester's One Giant Leap event, the film starts at 9.15pm.
New Walk Museum then hosts a weekend of free events, with Storytelling Saturday on 20 July (11am-1pm) and an opportunity to have fun with science on Sunday (21 July). Youngsters with a passion for physics, chemistry, biology and maths can take part in the CHaOS Science Day from 12 noon to 5pm.
Football-mad girls and boys (aged 7-14) can sign up for free coaching sessions delivered by Leicester City's community team from Monday (22 July). Each session – which take place at various parks and playing fields around the city – runs for 90 minutes. For more information, call 0116 291 5223.
There's also a chance to have a go at cricket, thanks to Leicestershire County Cricket Club's free street cricket sessions. Aimed at those aged 8-15, the sessions take place every Tuesday at Cossington Street sports centre from 4.30pm – 7.30pm. For details, call 07495 092 679.
Lots more ideas for free activities during the summer break can be found at families.leicester.gov.uk
Details of free sessions at Leicester's adventure playgrounds and activities taking place at youth centres this summer are also available on the website.
Providing free activities for children and families is one of the ways the city council is working to reduce the impact of poverty, improve lives and help children reach their potential.
This summer, the council is also funding a number of healthy holiday clubs, where children will be able to enjoy good food, as well as a range of free activities.
Details of the holiday food programme can be found on the city council's website at families.leicester.gov.uk
Some of the free activities taking place in Leicester during the first two weeks of the summer break - July 13-28 – are listed below:
From Saturday 13 July: The Wonderful World of the Ladybird Book Artists. Free summer exhibition at New Walk Museum until Sunday 1 September.
Every Saturday: Abbey Park Tennis for Free. 
Sunday 14 July: Bands in Parks. Enjoy the sounds of the Syston Band in Monks Rest Gardens. 3pm-4pm
Every Sunday: Evington Park Tennis for Free. 
Every Sunday: Victoria Park Tennis for Free. 
Monday 15 July: Family Fun Day at Highfields Library. 12noon-4pm
Tuesday 16 July: Family Fun Day at St Barnabas Library. 12noon-4pm
Tuesday 16 July (and every Tuesday): Chance to Shine Cricket (aged 8-15). Cossington Street sports centre.  4.30pm-7.30pm. Contact Leicestershire County Cricket Club on 07495 092679 for information.
Wednesday 17 July: Family Fun Day at New Parks Library. 12 noon-4pm
Wednesday 17 July: Mini Play Day in Town Hall Square. 11am-2pm
Thursday 18 July: Family Fun Day at Pork Pie Library. 12 noon-4pm
Friday 19 July: Rogue One: A Star Wars Story (12A). Jubilee Square. 9.15pm. Part of the One Giant Leap programme, brought to Leicester by BID Leicester.
Saturday 20 July: Storytelling Saturday at New Walk Museum. 11am- 1pm. Free activities, storytelling and crafts.
Sunday 21 July; CHaOS Science Day at New Walk Museum. 12 noon-5pm. Demonstrations and experiments for those with a passion for physics, chemistry, biology and maths.
Sunday 21 July: Bands in Parks. Enjoy the sounds of the New Orleans Hotshots in Knighton Park. 3pm-4pm
Sunday 21 July: Bands in Parks. Enjoy the sounds of the Enderby Youth Band in Western Park. 3pm-4pm
Monday 22 July: Family Fun Day at Rushey Mead Library. 12 noon-4pm
Monday 22 July; Tuesday 23 July: PL Kicks - free football sessions for boys and girls (7-14 years). Hockley Farm Road playing fields, LE3 1HJ. 11am-12.30pm. Bring drinks, football boots and trainers, suitable clothing and shin pads! Email trust@lcfc.co.uk or call 0116 291 5223 for more information.
Monday 22 July – Friday 26 July: PL Kicks - free football sessions for boys and girls (7-14 years). Cruyff Court, Willow Street, LE1 2HR. 1.30pm-3pm. Bring drinks, football boots and trainers, suitable clothing and shin pads! Email trust@lcfc.co.uk or call 0116 291 5223 for more information.
Monday 22 July; Wednesday 24 July; Friday 26 July: PL Kicks - free football sessions for boys and girls (7-14 years). Allexton Gardens playing fields, LE3 6LA. 4pm-5.30pm. Bring drinks, football boots and trainers, suitable clothing and shin pads! Email trust@lcfc.co.uk or call 0116 291 5223 for more information.
Monday 22 July; Tuesday 23 July; Thursday 25 July; Friday 26 July: PL Kicks - free football sessions for boys and girls (7-14 years). Sturdee Road recreation ground (grass pitches), LE2 9DB. 4pm-5.30pm. Bring drinks, football boots and trainers, suitable clothing and shin pads! Email trust@lcfc.co.uk or call 0116 291 5223 for more information.
Tuesday 23 July: Fairytale Fun Day at New Walk Museum, 11am-4pm. Free crafts and storytelling.
Tuesday 23 July: Family Fun Day at the Brite Centre. 12 noon-4pm
Tuesday 23 July: Space Steps and Stories. Group walks for families. 2pm-3.15pm. Beaumont Leys Children's Centre.
Tuesday 23 July (and every Tuesday until 20 August): Summer Goals. Free football activities for all the family from Leicester City in the Community. Cossington Street recreation ground.  11am-3pm. Call 0116 291 5223 for more information.
Wednesday 24 July: Mini Play Day in Town Hall Square. 11am-2pm
Wednesday 24 July: Family Fun Day at Beaumont Leys Library. 12 noon-4pm
Wednesday 24 July: Space Steps and Stories. Group walks for families. 11am-12.15pm. St Matthews Children's Centre.
Wednesday 24 July (and every Wednesday until 21 August): Summer Goals. Free football activities for all the family from Leicester City in the Community. Abbey Park/St Margaret's Pastures. 11am-3pm. Call 0116 291 5223 for more information.
Thursday 25 July: Family Fun Day at Fosse Library. 12 noon-4pm
Thursday 25 July (and every Thursday until 22 August): Summer Goals. Free football activities for all the family from Leicester City in the Community. Abbey Park/St Margaret's Pastures.  11am-3pm. Call 0116 291 5223 for more information.
Saturday 27 July: Bike Fest. New College cycle circuit. 1pm-4pm.
Sunday 28 July: Open Streets. New Market Square. From 1pm. Free heritage tours by bike and on foot.
Sunday 28 July: Heritage Sundays.  Explore The Magazine, Leicester's 15th century gateway (free to visit from 12 noon to 3pm on Heritage Sundays). Not suitable for very young children.
Sunday 28 July: Bands in Parks. Enjoy the sounds of Liquid Brass in Humberstone Park. 3pm-4pm