Free summer holiday fun at libraries
Published on Thursday, July 11, 2019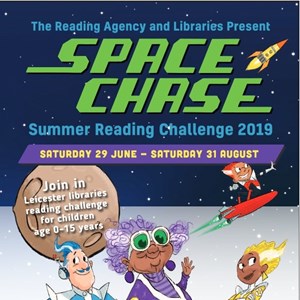 FREE family fun days are taking place in libraries across the city over the summer.
The fun days are part of this year's Space Chase summer reading challenge, and feature space-themed reading activities, challenges and quizzes, as well as the chance for library visitors to pick up their Space Chase mission folder and sticker sheet and begin their reading challenge.
To take part in the challenge, children aged 0-15 simply need to borrow six books over the course of the summer, making at least three library visits. They can collect rewards including stickers and a wristband along the way, with a medal, certificate and special prize from The National Space Centre for completing the challenge.
Space-themed books will be on display at city libraries, but children can read books on any topic at all to take part in the challenge. Adults can support their children by taking part in Space to Read and pledging to read six books themselves over the summer.
The library fun days kick off next week at Highfields Library on Monday 15 July, St Barnabas Library on Tuesday 16 July, New Parks Centre on Wednesday 17 July and the Pork Pie library and community centre on Thursday 18 July. They all take place from 12-4pm.
There will be further sessions at city libraries throughout the holidays, plus the chance to join the National Space Centre for drop-in family activities at the Brite Centre on Tuesday 23 July, Belgrave Library on Wednesday 31 July and Leicester Central Library on Wednesday 7 August, as part of National Play Day.
Cllr Kirk Master, assistant city mayor responsible for neighbourhoods, said: "There's lots going on as part of this year's summer reading challenge. As well as family fun days across our libraries, there will be a big activity day at Curve on Tuesday 20 August, when families can join in free, space-themed activities, workshops and performances.
"We're very pleased to be working with the National Space Centre, the Reading Agency and the Spark Arts for Children, which will be bringing a performance to local libraries in August.
"We've also joined forces with the Get up and Go initiative to encourage children, young people and families to be more active. Look out for 'Space steps and stories' – a series of family group walks from libraries and children's centres which will be contributing to a city-wide aim to take 478 million steps this summer, the distance to the moon."
Last year around 7,000 children joined the city's summer reading challenge, with 109,000 books issued to under-16s over the period.
To find out more about Space Chase, pick up a leaflet from your local library. For Space Chase games and activities, go to spacechase.org.uk
(ends)