Latest music highlights announced for City Festival
Published on Wednesday, July 31, 2019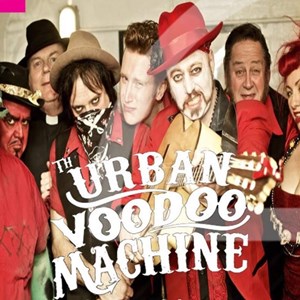 THE latest confirmed musical artists have been announced as part of a packed programme of music, comedy and entertainment at the heart of Leicester's City Festival.
The Urban Voodoo Machine, Jaws and Leicester's own Brandy Thieves are among the latest performers to be appearing at the huge transparent venue known as The Dome, which forms the centrepiece of this year's events in Jubilee Square.
Earlier this month, acclaimed band British Sea Power and American singer songwriter BC Camplight were announced as musical highlights, as part of a varied programme of events including live comedy and a celebration of Bollywood musicals.
This year's City Festival will centre around a huge transparent venue known as The Dome, in Jubilee Square, which will be focal point for programme of daytime family-friendly activities throughout the week, before transforming into a stunning 500-people capacity performance space for live concerts and shows in the evenings.
City Festival takes place from August 19 to 26, with a programme of events and activities for all ages. Leicester City Council, which is running City Festival, is working with local venues Firebug and The Cookie on the music programme, while comedy is being hosted in collaboration with the Big Difference Company, which is behind the hugely-successful Leicester Comedy Festival.
Jaws will play on Wednesday, August 21, with tickets costing £15 in advance or £20 on the door.
The Urban Voodoo Machine will perform on Sunday, August 25, with tickets costing £10 in advance or £15 on the door.
Live comedy will also take place on Thursday, August 22 and Saturday, August 24. The latest artists confirmed for 'Comedy in the Dome' on the Saturday include Felicity Ward in the first show, which runs from 7-8pm, while Henry Parker will take to the stage in the second show, which begins at 8.30pm. Both shows cost £12 in advance and £15 on the door.
Sky Sports Soccer AM presenter and stand-up comic Lloyd Griffith has already been confirmed  among the names topping the festival's comedy programme on August 22.
Meanwhile, Bollywood will also be taking centre stage in an evening dedicated to the musicals, Friday, August 23, from 7pm to 10.30pm.
BC Camplight performs on Monday, August 19, supported by Charlotte Carpenter, while British Sea Power perform on Tuesday, August 20, supported by Leicester punk/ska/folk outfit The Brandy Thieves.
Tickets for all gigs are available via Gigantic at www.gigantic.com/leicester-city-festival-tickets
The City Festival's 'Out of this World' theme will celebrate all things relating to outer space and exploration with events across the city centre and a space-themed street art festival from Monday to Friday.
Jubilee Square will also host dazzling international street arts, stunning performances and interactive activities and games for the whole family. Visitors will be able to keep an eye out for intergalactic guests including giant insects and robots, while the evening live music and comedy shows will bring each day to a stunning finale.
Deputy city mayor for culture, leisure and sport, Cllr Piara Singh Clair, said: "The exciting programme of entertainment on offer at this year's City Festival means there's really something for everyone."
More details of City Festival 2019 are available at: www.visitleicester.info
(Ends)