Major investment planned at Braunstone Grove
Published on Friday, July 26, 2019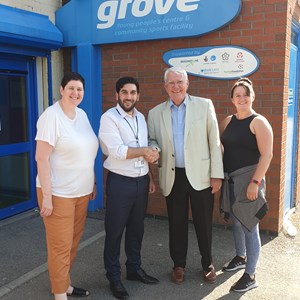 MAJOR investment plans have been revealed by a group that has taken over the running of a former city council neighbourhood centre.
Braunstone Grove, in Cort Crescent, was earmarked for transfer to neighbourhood charity B-Inspired last year under the city council's community asset transfer policy, with the official handover of the building taking place recently.
It means B-Inspired is now responsible for the repairs and upkeep of Braunstone Grove, under a 25-year lease. The group also runs the centre on a day-to-day basis, offering a range of community activities and facilities including sports, dance, room hire and skills training.
StreetVibe, which provides services for young people, will also continue to operate from Braunstone Grove.
B-Inspired has now secured £340,000 of investment from two charitable trusts, the Garfield Weston Foundation and Power to Change. This will pay for an internal refurbishment of the centre, creating a community café space on the ground floor, plus a dance and fitness studio and a bar on the first floor.
Outside, two multi-use games areas will also be refurbished, with new surfacing and fencing, plus improved outdoor furniture and sports equipment.
Angie Wright, chief officer at B-Inspired, said: "This investment will create a community hub that will offer a wide range of activities. As well as football and dance, there will be youth sessions, adult fitness classes, education and training for sports coaches and after-school study clubs. Community groups will also be able to hire our facilities.
"A main focus for us is the development of four new community businesses, led by local people. These businesses will run the community café, bar, dance studio and the Braunstone Park 18 football club. They will be integral to our success and represent our commitment to this community.
"We're very grateful to the trusts that are giving us their backing by making this investment, and we look forward to bringing improved facilities and more activities to Braunstone."
Leicester City Council's assistant city mayor for neighbourhoods, Cllr Kirk Master, said: "This is a great example of our community asset transfer policy in action. We're so pleased to see community groups going on to thrive and attract investment when they take over the running of our buildings. It means our neighbourhoods can benefit from new services and updated facilities when suitable buildings are released by the council.
"Under our Transforming Neighbourhood Services programme, we allocated £2.5m for investment in multi-service centres, neighbourhood centres and libraries across the city.  The programme also identified some buildings which were no longer required, and this has provided opportunities for local groups through our community asset transfer policy.
"We're always keen to work in partnership with community groups like B-Inspired so that together, we can continue to provide a broad range of neighbourhood services, which we know people value."
To find out more about the city council's neighbourhood services, visit www.leicester.gov.uk/communitycentres
To find out more about Braunstone Grove and B-Inspired, visit http://www.b-inspired.org.uk/
(ends)