Pollinators make a beeline for Leicester's ring road
Published on Tuesday, July 2, 2019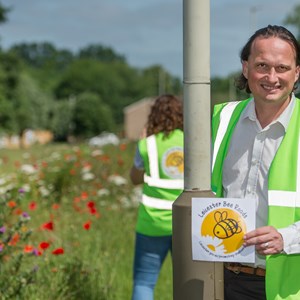 BEES and butterflies are heading for Leicester's ring road this summer, thanks to a planting project that's transforming the city's roadside verges into havens for pollinators.
Leicester City Council has planted wildflower seeds on more than 3,000 square metres of roadside and roundabouts as part of its Bee Roads project – and the colourful wildflowers are now in full bloom and looking their best.
Bees, butterflies and other pollinating insects are attracted to the nectar-rich flowers – while road users will be enjoying a splash of roadside colour that should last until August.
Cllr Adam Clarke, deputy city mayor for the environment and transportation, said: "These planting schemes are supporting the butterflies and bees that play such a vital role in our eco-system and show how simple changes to the way we manage our land can create the habitats that these pollinators rely on.
"The planting that we've done for the Bee Roads project provides plenty of nectar-rich plants for pollinating insects to feed on – and creates the food stops they need to fuel their flights across the city.
"By planting wildflowers along the major routes in and out of the city, we're using the road network to provide pollinator pitstops that link up with Leicester's parks and nature areas.
"The wildflowers are clearly invaluable to insects ­- but they're also brightening up the grass verges along some of Leicester's busiest roads for people to enjoy as well."
More than a dozen sites across the city have been seeded, including land on Goodwood Road, Troon Way, Wakerley Road, Asquith Way and Aylestone Road. Wildflowers are also filling roundabouts with colour, with the flowers on the Dominion Road and Hinckley Road roundabouts now looking their best.
Native annuals and perennials – including cornflower, oxeye daisy, poppy, knapweed and cowslip – have been planted to create Leicester's Bee Roads. Some non-native annuals, such as cosmos and borage, have also been planted to ensure a good show of long-lasting colour that will provide a plentiful food source for pollinating insects.
Senior nature conservation officer Dr Helen O'Brien said: "Our Bee Roads will help to mitigate some of the impacts of climate change by providing a nectar source from plants that will flower over a long season.
"If, for example, we have a long hot summer, or a cooler, wetter one, we've got the right plants to ensure a steady supply of food from spring through to autumn – which is when the insects are most active.
"And by planting our roadside verges with wildflowers, we're creating nectar-rich corridors to Leicester's larger parks and nature reserves, where pollinators will find safe places to breed and hibernate over winter.
"These simple measures are central to our pollinator strategy and will help protect the butterflies, bees, hoverflies and ladybirds that pollinate our crops and play such a vital role in our eco system."
The Leicester Bee Road sites were funded and prepared last year through the Urban Buzz project – a partnership between the city council and environmental charity Buglife. This year, the council has continued to manage those areas while creating additional wildflower sites.
More information about nature conservation and promoting biodiversity in Leicester is available at www.leicester.gov.uk
Ends
Photo caption: Deputy city mayor for the environment and transportation Cllr Adam Clarke places a Bee Road sign on a lamp column on Goodwood Road, where wildflowers are creating a nectar-rich corridor for pollinating insects.
Work to protect and create habitats for pollinating insects is one of a number of actions being carried out by the city council in response to the climate crisis.
Experts now predict that unless drastic action is taken, we are less than 12 years away from global heating becoming irreversible, with catastrophic results. In response, Leicester City Council declared a climate emergency in February 2019.
Local initiatives such as creating more cycle lanes in the city, improving bus services, setting up a renewable energy company, installing more solar panels on council buildings and promoting take-up of electric vehicles are already under way.
The council also plans to consult on charging employers with parking spaces and investing this income in schemes to further reduce transport emissions.
With Government support, the city council could be on track to be carbon neutral before 2030.