Two-wheeled fun on mass schools' bike ride
Published on Thursday, July 4, 2019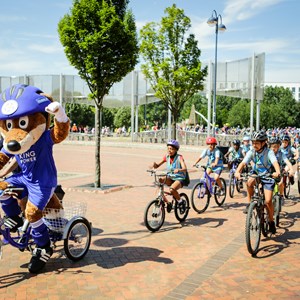 AROUND 400 schoolchildren and adults from 11 schools will take part in a mass ride into the city tomorrow. (Friday 5 July)
Leicester City mascot Filbert Fox will be leading in the young cyclists as part of the annual schools' bike ride.
The ride gives Year 5 & 6 schoolchildren from across the city and county the chance to put into practice the Bikeability skills they have learned and make the most of the city's cycle tracks and neighbourhood routes.
On Friday 5 July, schoolchildren will set off on their rides – supervised by teachers and ride leaders – to converge at Cathedral Gardens, in front of Leicester Cathedral, from 11.30am.
Once there, they'll see a demonstration from mountain bike stunt rider Danny Butler, enjoy a comedy show with comedian Jay Foreman and will be awarded with Bikeability certificates by deputy city mayor Cllr Adam Clarke.  
Cllr Clarke, who is responsible for environment and transportation, said: "We have a growing network of improved cycling routes across the city, and ambitious plans to expand, using money from a recent successful bid to Government called Transforming Cities.
"This ride is a great chance to introduce children to our cycling network so they know how easy it can be to get around by bike. They can then take that message home to their parents.
"We're facing a climate emergency, which means we all need to make better choices about how we travel. More cycling helps to improve air quality, reduce city congestion and it's often the quickest way to get around. It's also fun!"
The ride marks the start of a summer of cycling in Leicester, with a programme of events suitable for all cyclists of all abilities.
There are monthly pop-up Bike Fest events on Leicester's purpose-built cycle circuit at New College, with the chance to try out the circuit for free. The next one is on Saturday 27 July, from 1-4pm.
Open Streets, on the last Sunday of each month, is a celebration of traffic-free streets starting from Leicester's new Market Square. Join a free, family-friendly cycle or walking tour of the city, exploring Leicester's unique urban heritage – the next Open Streets event takes place on Sunday 28 July.
The Ride Leicester festival, from 17-31 August, is a packed two-week celebration of all things cycling, including the chance to take to traffic-free streets on Sunday 25 August for a mass cycle ride through the city centre. The mass ride – Let's Ride Leicester – is free and follows a traffic-free route linking King Power Stadium and the city centre, with bike-themed events and activities along the way. Schools' ride participants and their families will be invited to help kick off this year's event by joining Filbert Fox in an opening parade.
All of these events are organised through the Ride Leicester partnership, which is led by the city council in conjunction with British Cycling, Sustrans, De Montfort University, Leicester City Football Club and other organisations supporting cycling in Leicester.
Support for cycling is one of a number of actions being carried out by the city council to tackle the climate crisis.
Experts now predict that unless drastic action is taken, we are less than 12 years away from global heating becoming irreversible, with catastrophic results. In response, Leicester City Council declared a climate emergency in February 2019.
Local initiatives such as creating more cycle tracks in the city, improving bus services, setting up a renewable energy company, installing more solar panels on council buildings and promoting take-up of electric vehicles are already under way.
The council also plans to consult on charging employers with parking spaces and investing this income in schemes to further reduce transport emissions.
With Government support, the city council could be on track to be carbon neutral before 2030.
For more information on Bikeability training, email cycletraining@leicester.gov.uk
More information on the HSBC UK Let's Ride Leicester can be found at letsride.co.uk/events/leicester
 (ends)