Afternoon tea for carers marks Shared Lives week
Published on Thursday, June 20, 2019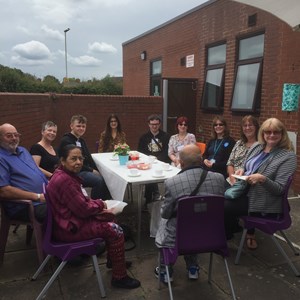 CARERS who look after adults with learning disabilities gathered together for afternoon tea to mark Shared Lives Week, which runs from 17-23 June.
Carers and Shared Lives service users met at Hastings Road day centre on Tuesday (18 June) to celebrate Shared Lives Week and raise awareness of service.
Shared Lives is an arrangement where an adult with learning disabilities lives or stays with a carer and their family. This can be long-term, for day care or for respite care while a regular carer takes a break.
There are currently 29 adults using the scheme in Leicester, supported by 36 Shared Lives carers.
Deputy city mayor Cllr Sarah Russell, who leads on social care, said: "Shared Lives is a great scheme which means people who need help to live independently can be part of a family and their local community.
"We match carers to people who need support very carefully and provide ongoing support, with the result that some of our carers have been working with us for more than 20 years. It's great to see the scheme have such a positive influence on people's lives.
"Shared Lives Week gives us a chance to highlight the valuable work our carers do and to say thank you to them."
Carer Carol Wright, who has been a Shared Lives carer for 21 years, said: "I've always worked with people, including homeless people and vulnerable members of society. Some of their situations really touched me and I would love to have offered them a home. Shared Lives gives me the chance to do just that. You can enrich your own life by enriching someone else's."
Carol and her husband care for Dennis, 64, as well as supporting two other adults with learning disabilities.
Dennis said: "Shared Lives makes me feel safe, but I still have the independence I want."
More adults would like to live in Shared Lives placements, so the service is always looking for new carers. To be considered, you need to have previous caring experience. Shared Lives carers are paid and get ongoing training and support. To find out more, call Shared Lives on 0116 454 3740 or email sharedlives@leicester.gov.uk
(ends)