Blast off on a space chase for this year's summer reading challenge!
Published on Wednesday, June 26, 2019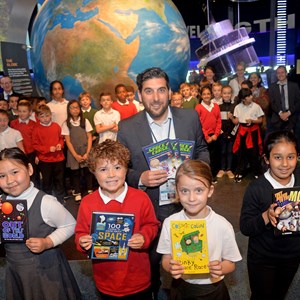 CHILDREN and families from across the city and county can take part in an out-of-this-world reading challenge over the summer.
The Space Chase is the theme of this year's summer reading challenge, which encourages children to visit their local library over the summer and to borrow at least six books.
The challenge is being organised by the city and county councils with support from the National Space Centre and The Reading Agency.
Children can join intergalactic cartoon family The Rockets on their reading quest, winning collectibles for their mission folder along the way. The challenge officially blasted off at a launch event on Tuesday 25 June at the National Space Centre, and will run throughout the summer holidays.
At the launch event, children from Wolsey House and Highcliffe primary schools joined staff from the National Space Centre, city and county councils for a host of stellar activities, each linked to a different space-themed book. Highlights included storytelling and poetry, a space suit demonstration, a planetarium show and the chance to investigate some of the smells of space.
The theme of this year's summer reading challenge has been chosen to mark the fiftieth anniversary of the Apollo 11 moon landing, the space flight that landed the first two people on the moon.
Cllr Kirk Master, Leicester City Council's assistant mayor for neighbourhoods, said: "This is an excellent theme for our annual summer reading challenge and a great way to mark an important historical milestone. We're very fortunate to have the National Space Centre on our doorstep to help support us in our campaign. 
"Reading for pleasure over the long summer break not only benefits children's education – it's also a fun, free and flexible activity to beat holiday boredom, and a great habit to get into for a lifetime."
CJ Bishop, community liaison officer at the National Space Centre, said: "We're delighted to work with Leicester City Council and Leicestershire County Council to inspire children from across the city and county to read. In the 50th anniversary of the first Moon landing, we're really excited that this year's summer reading challenge is all about space. It's our favourite subject and we hope to use our enthusiasm and expertise to inspire kids to read.
"This summer we're going to provide children with a unique space to read. We're setting up a space-themed reading corner, complete with books, beanbags and space rug at the National Space Centre for children to explore stories from across the universe."
Richard Blunt, county council cabinet member for libraries, said: "It's easy for children's reading to dip when they are off school. The summer reading challenge is a fun and engaging way to encourage children to visit the library with their family and read for pleasure, to keep up their reading skills over the long summer holidays."
Look out for summer workshops, performances, readings and activities across the city and county as part of Space Chase, including a family fun day at Curve and National Space Centre activities at county libraries.
Adults can get involved too, by joining Space to Read at any Leicester city library and pledging to read six books over the summer.
Last year more than 7,000 children joined the city's summer reading challenge, with more than 9,000 joining in in the county.
To find out more and join the summer reading challenge, ask at your local library or go online to www.leicester.gov.uk/libraries if you live in the city and https://www.leicestershire.gov.uk/summer-reading-challenge if you live in the county.
(ends)