Chance to view city's latest fledgling Peregrines
Published on Monday, June 10, 2019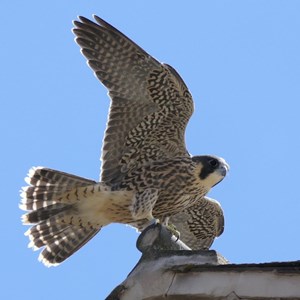 THREE recently-hatched Peregrine falcon chicks are preparing to take their first flight from a specially-built lofty nest box tucked away in Leicester Cathedral's bell tower.
The eggs were laid in the purpose-built nest in March and hatched last month. The young birds have now almost developed the wing feathers needed for flight and their progress is being captured by three nest-mounted web cams.
Live feeds from the nest are available to view at: leicesterperegrines.org.uk/streaming/
People will also be able to join wildlife experts to observe the Peregrines through binoculars or bird-spotting telescoped provided for the next Peregrine Watch event, taking place in the Cathedral Gardens, on Wednesday, 12 June, from 9.30am.
Peregrines normally nest among cliffs, but in cities they often make their homes high on buildings which are the closest thing to their natural habitat. The cathedral tower provides the birds with a safe inaccessible viewpoint to raise young and to spot and capture prey.
The nest was created three years ago, when a 180-kilogramme block of stone was carefully removed, and a nesting box installed. Three web cams have now been installed with the agreement from Leicester Cathedral.
LROS president Jim Graham said: "After raising two chicks in 2018, it has been a privilege to watch the pair raise three young this year. They are all very healthy and are reaching the stage where they will be leaving the nest box and take their first flight.
"The young will still be dependent on the adults for food for the next month or more whilst they learn to hunt and feed for themselves, so there will be plenty of activity around the cathedral in the coming weeks."
Leicester City Council nature conservation officer Donna Oxbrough added: "This is a great example of partners working together in conservation to help protect and conserve these birds. The city now has an ideal home for Peregrines and the cameras help share the comings and goings of their fascinating daily lives as it happens.
"It is a great example of the wildlife that can thrive in the city."
The Leicester Peregrine Project is run by the Leicestershire and Rutland Ornithological Society with the help and support of Leicester City Council, Leicester Cathedral and the King Richard III Visitor Centre.
For more information visit www.leicesterperegrines.org.uk or follow @LeicsPeregrines on Twitter.