Charity seeks crowdfunding support for pet project
Published on Thursday, June 20, 2019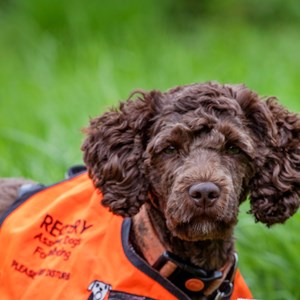 A LEICESTER charity that trains dogs that help their owners' mental health and wellbeing is seeking the public's support for a project that will make walkies even more fun in the future.
Based off Saffron Lane, the charity - RECOVERY Assistance Dogs (RAD) – hopes that its new crowdfunding appeal will raise more than £10,000 for a canine agility course that dogs and their owners can enjoy together.
Featuring hoops, tunnels, jumps and weaves, the outdoor gym would be set up on city council-owned land close to Aylestone Leisure Centre, providing a space where dog owners could meet up for a chat, and where dogs could improve their agility while socialising with other pets.
Any dogs and their owners would be able to use the facility – free of charge – but it would also be used by the charity to help train its assistance dogs, which do so much to improve the mental health and wellbeing of their owners.
Liz Maitland of RAD said: "Dogs are brilliant at getting their owners out of the house and into a more positive mindset, so we want to give them something that will help improve their own wellbeing too.
"This new canine agility course would provide a place where dogs could interact with other dogs or just have fun with their owners – and it would be the only such facility in the county.
"I hope that anyone who loves dogs, or who recognises the role that dogs can play in improving our mental health, will be able to support our crowdfunding appeal. Any donation – large or small - will help us reach our target and will be very gratefully received."
The charity is seeking to raise a total £10,278 to fund the project.
It's come up with a range of rewards to encourage people to support their appeal. The first 30 people to pledge £10, for example, will be sent a photo of a Recovery Assistance Dog puppy – while the first three backers to donate £150 will be rewarded with a five day-break in the charity's seaside caravan.
City Mayor Peter Soulsby is hosting the appeal via his crowdfunding initiative, CrowdFund Leicester.
For the first time since CrowdFund Leicester was launched in September 2017, the City Mayor could support a project by giving it access to city council land.
The 0.2 hectare (2,000m2) site, close to Aylestone Leisure Centre, would continue to be owned and maintained by the council, but it would be made available to the charity for the canine agility course – providing it can raise the funds it needs.
"RAD is a local charity that does a huge amount of work to highlight the benefits of dog ownership on people's mental health and overall wellbeing," said City Mayor Peter Soulsby.
"Their proposal for a pet-friendly facility that both dogs and their owners will enjoy is one that I'm pleased to support ­ - particularly as we have nothing else like this in Leicester.
"If RAD's crowdfunding appeal is successful, and they raise the funds they need, I have pledged to provide them with the land they'll need for their project.
"I wish them the very best of luck with their appeal, and I would encourage local businesses, organisations and individuals to have a look at the charity's page on the CrowdFund Leicester site and to support the appeal, if they can."
Anyone wishing to contribute to the appeal can make their donation here: www.spacehive.com/dogs-improve-wellbeing
People can also make cash donations at the RAD charity shop on 10 St Andrews Road, LE2 8RD.
CrowdFund Leicester is hosted by crowdfunding platform Spacehive.
Through CrowdFund Leicester, the City Mayor's community engagement fund is supporting ideas that bring communities together and improve Leicester for everyone.
More information is available on the City Mayor's webpages at leicester.gov.uk  
Ends
Photo caption: Recovery Assistance Dog Chocci visits the site for the proposed canine agility course off Knighton Lane East.
About RECOVERY Assistance Recovery Dogs:
RECOVERY Assistance Dogs support people's mental health and wellbeing.
Intensively trained, and registered Assistance Dogs, they help protect their owners from anxiety, loneliness and panic attacks.
RECOVERY Assistance Dogs has been a registered charity since 2008.
For more information about the charity and its work, please visit its website: www.recoveryassistancedogs.org.uk/