City prepares to mark Armed Forces Week
Published on Thursday, June 20, 2019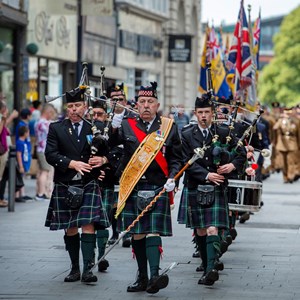 THE PIPES and drums of the Seaforth Highlanders will lead a parade through Leicester city centre on Saturday (22 June) to mark the start of National Armed Forces Week.
Service personnel, veterans and cadets will join the parade, after taking part in a special service at Leicester Cathedral that will be attended by the Lord Lieutenant, Mike Kapur OBE, the Lord Mayor of Leicester, Cllr Annette Byrne, and the Chairman of the County Council, Pam Posnett.
The 400-strong parade will set off from Jubilee Square at around 11:40am, making its way along High Street – where the Lord-Lieutenant will take the salute – before continuing to the Clock Tower and Gallowtree Gate.
A number of static displays and exhibits relating to the armed forces will be set up on Humberstone Gate until 4pm on Saturday – while on Monday (24 June), a ceremony to raise the Armed Forces Flag will take place in Town Hall Square at 12.30pm.
The flag will fly until dusk on National Armed Forces Day, which is marked on Saturday 29 June.
Assistant City Mayor Cllr Vi Dempster is the city council's new Armed Forces Champion – and she's proud to take on the role.
"Both my parents served in the forces, so I know the sacrifices that our servicemen and women make to serve our country," she said.
"In a city as diverse as Leicester, we don't need reminding of the huge role played by our Commonwealth partners in various conflicts over the years.
"Armed Forces Week gives us an opportunity to show our gratitude to all of those brave men and women, from Britain and beyond, who continue to play such a vital role in the security of our country."
Leicester has a longstanding relationship with local units of the armed forces, with both the Royal Lancers and Royal Anglian Regiments having been granted the freedom of the city of Leicester.
Last year, the city and county councils re-signed the Armed Forces Covenant, which sets out the two authorities' relationship with the armed forces, and the services available to current and former personnel and their families.
More information about the Armed Forces Covenant is available at www.leicester.gov.uk/armedforcescovenant