Go traffic-free at city's monthly Open Streets festival
Published on Friday, June 28, 2019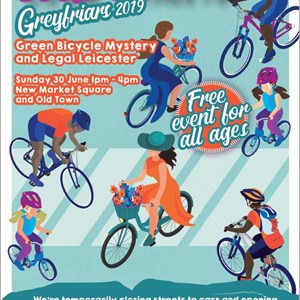 HISTORIC streets in the Greyfriars area of the city centre will be closed to traffic and opened up for people to enjoy this weekend.
Open Streets is a regular monthly event which sees streets such as Friar Lane and Millstone Lane, in the city's historic Old Town, closed to traffic on the last Sunday of each month.
This month's event will take place from 1-4pm on Sunday 30th June and will feature a range of fun, free activities for people of all ages to enjoy.
The new Market Square is the focal point for the event, where visitors can take a free rickshaw ride, get a bike check and tune in to the carnival rhythms of Sambando, a local samba drumming group, which will be bringing the sounds of Brazil to the city.
At 1pm, a group bike ride from the square will look at the history of the Green Bicycle Mystery – an infamous local case that unfolded 100 years ago. At the same time, a guided walk will take visitors on a tour of the historic Greyfriars area, examining its links with the legal profession – with tales of ghostly visitations, as well as the recollections of people who worked in area.
At 3.15pm, a one-hour guided walk will allow visitors to further explore the Old Town conservation area, led by a local historian who will share knowledge of the area's past and its recent urban renewal as part of the Greyfriars Townscape Heritage Initiative.
Elsewhere, visitors can join a talk about the Green Bicycle Mystery at the King Richard III visitor centre, or listen to an 'alternative facts' comedy tour of Greyfriars, starting from St Martins at 2pm.
Art workshops will be taking place out on the streets, including a baby sensory area, and there's also the chance to try a game of bike polo, or travel back in time by boarding a 1968 Midland Red bus, which will be parked outside the old bus depot in Peacock Lane.
Deputy city mayor Cllr Adam Clarke, who leads on environment and transportation, said: "We recently closed a street in Belgrave outside a school to highlight National Clean Air Day and it was a great success, with children and families reclaiming the street space usually occupied by cars and using it for games and socialising instead.
"If we are to make an impact on air quality, we need to do this more regularly – and this is exactly what Open Streets advocates. It gives us the chance to think more radically about what we want our urban landscapes to be, so that we can make a positive impact on our environment."
Open Streets is one of a number of actions being carried out by the city council to help reduce vehicle emissions and tackle the climate crisis.
Experts now predict that unless drastic action is taken, we are less than 12 years away from global heating becoming irreversible, with catastrophic results. In response, Leicester City Council declared a climate emergency in February 2019.
Local initiatives such as creating more cycle lanes in the city, improving bus services and promoting take-up of electric vehicles are already under way.
The council also plans to consult on charging employers with parking spaces and investing this income in schemes to further reduce transport emissions.
With Government support, the city council could be on track to be carbon neutral before 2030.
The event is funded by the National Lottery Heritage Fund and is linked to the Greyfriars Townscape Heritage Initiative – more than £10m of street scene improvements funded by the city council, property owners and the National Lottery Heritage Fund.
(ends)