Judge a 'mealbarrow' at Evington Park this weekend
Published on Thursday, June 27, 2019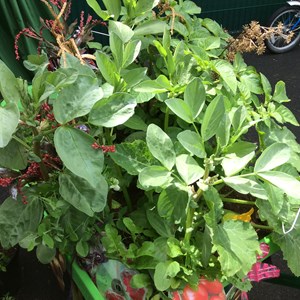 SCHOOLS which have been growing 'mealbarrows' full of healthy fruit and vegetables will have their efforts judged at a city park on Saturday.
The mealbarrows are part of an annual Grow Your Own Grub competition organised by the city council's eco-schools and public health teams, The Conservation Volunteers (TCV), and Food for Life.
Schools were tasked with coming up with a healthy, nutritious and creative menu idea for a three-course meal and then growing at least five of the ingredients they'd need – whether fruit, vegetables, salad crops, herbs or cereals.
The 'mealbarrows' idea – where crops are grown in wheelbarrows – means even schools that don't have much growing space can take part in the competition.
Eighteen city schools have participated, and the fruits (and vegetables) of their labour will be on display at Evington Park on Saturday 29 June, from 12pm until 3pm, outside Evington House.
Members of the public, plus friends and families from the schools, are invited to view the mealbarrows and vote for their favourite.
Their votes will be combined with those of a panel which has already visited all of the participating schools, judging against criteria such as the condition of the crop and how environmentally-friendly the growing methods have been.
Prizes of garden centre shopping vouchers will be awarded for first, second and third mealbarrows at a celebration event, which will be held at the winning school in the autumn term.
City council public health funding has been used to support the competition. Cllr Vi Dempster, assistant city mayor for public health, said: "I'd like to take this opportunity to thank all those involved in setting up this competition, since we know that children have a better understanding of their food, and are more likely to try new and healthier options, if they've had a hand in growing it.
"Promoting nutritional, sustainable food options like these can help to combat obesity as well as demonstrating that growing your own grub is easy - and fun. It's a message that children can then take home to their families."
Schools participating in the competition are:
Catherine Junior School
Children's Hospital School
Fosse Primary School
Judgemeadow Community College
King Richard III Infant and Nursery School
Mayflower Primary School
Mellor Primary School
Nether Hall Special School
Nurturing Roots
Overdale Junior school
Rushey Mead Primary
Sandfield Close Primary School 
Scraptoft Valley Primary School
Sparkenhoe Community Primary School
Spinney Hill Primary School
St Patrick's Primary School
Barnabas C. of E. Primary 
West Gate School
To find out more about community 'get growing' schemes and other sustainable food projects in Leicester, visit www.leicester.gov.uk/foodplan
(ends)