Looshkin by Jamie Smart named as Our Best Book by city schoolchildren
Published on Thursday, June 6, 2019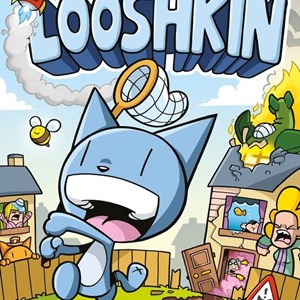 THOUSANDS of city schoolchildren have been voting for their favourite books as part of an initiative to encourage reading.
Our Best Book, which is organised every year by the city council's libraries service, asks children aged 10-11 to read a shortlist of books and then choose their favourite.
There's always a wide variety of books on the shortlist, including one or more graphic novels or cartoons, so that there's something for everyone. This year's winning book charts the madcap cartoon adventures of Looshkin, a small blue cat it's impossible to ignore, who creates chaos wherever he goes!
The book faced tough competition from other titles on the shortlist, including:
I Swapped My Brother on the Internet by Jo Simmons
Kick by Mitch Johnson
The 1,000-year-old Boy by Ross Welford
Bird & Squirrel On The Run by James Burks; and
I Don't Like Poetry by Josh Seigal.
The winner was unveiled at a special event held at Leicester Tigers on Thursday 6 June, which was attended by more than 380 schoolchildren from 38 schools, as well as by authors Josh Seigal, Mitch Johnson and Jo Simmons.
Six schools also took part in performances inspired by each of the shortlisted books.
Cllr Sarah Russell, deputy city mayor and reading champion, revealed the winner at the event.
She said: "Our Best Book is a chance to encourage and motivate primary school children to read for pleasure and enjoyment. We provide participating schools with more than 4,800 books selected by librarians so that children can read a wide range of titles.
"This award event is also hugely popular with children, who love to meet authors and get involved in activities inspired by their favourite books. Events like this one can help to foster a life-long love of reading."
The Our Best Book initiative is supported by city primary schools, Creative Learning Services and the Whatever It Takes city-wide reading campaign.
To find out more about Leicester's libraries, visit leicester.gov.uk/libraries
(ends)