Modfather's Day weekend events at New Walk Museum and Art Gallery
Published on Monday, June 10, 2019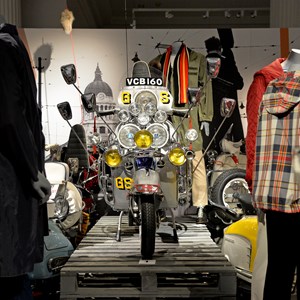 VISITORS to Leicester's New Walk Museum will be able to bid for a slice of Mod-themed history this weekend in an auction taking place as part of a programme of Father's Day events.
The museum, which is currently hosting the Mods: Shaping a Generation exhibition, is running a series of events on Saturday and Sunday, June 15 and 16, taking visitors on a trip back in time to Leicester's Mod era as part of the city's ReVive Festival.
And visitors looking to bag a once-in-a-lifetime "Modfather's Day" gift can make a bid for any of the three Mod-themed items in the exhibition which are being put up for auction.
They include a genuine 1960s Seeburg Select-O-Matic Jukebox, a handmade Mod target table/bar, which is on show at nearby charity Soft Touch Arts, and a 1960s William's "Full House" pinball machine, which has been adapted to accept new £1 coins.
Each of the lots is expected to raise over £300, with proceeds helping Soft Touch Arts' charitable music, media and creative work with local children and young people. Bidding closes on June 30, and can be submitted by filling in a silent auction bid form available at New Walk Museum's reception.
On the Saturday, author Tina Freeman will be reading from her new book Stinger – a picture book for all ages inspired by the cult classic Mod movie Quadrophenia – from 12noon. The event is free.
Then at 2pm, Nicky Weller - sister of 'The Modfather' musician Paul Weller – will talk about the legendary group The Jam, the Mod revival and working with author Tina Freeman. Tickets for the talk cost £6.00.
On Sunday, June 16, Father's Day itself will see Mod culture come alive, thanks to the exhibition itself, featuring original fashion, scooters, photographs and stories from Leicester and Nottingham Mods, plus a scooter rally on the museum forecourt at 11am.
Short films celebrating iconic images of Mods on screen, and celebrating the best of fashion, scooters and café culture will be shown at 12noon and 1.30pm. Tickets cost £5.
A special Father's Day menu will also be served at the museum's café.
To round-off the weekend, author, musician and local historian Kenny Wilson will be giving a free talk about Mods in Leicester. It takes place on Sunday at 3pm.
The Mods: Shaping a Generation exhibition and events at New Walk Museum coincide with the wider Revive Festival of Mod culture, which is taking place in more than 40 city venues over three weekends from June 14 to 30.
Leicester deputy city mayor for culture, leisure and sport, Cllr Piara Singh Clair, said: "The bygone days of 1960s culture, music and fashion are part of the city's rich history, and these events are a perfect way to experience that scene once again."
Full details of Leicester's museums, and the Revive Festival, are available at www.visitleicester.info
(Ends)