Schools compete for the 'eco factor' at celebration event
Published on Monday, June 17, 2019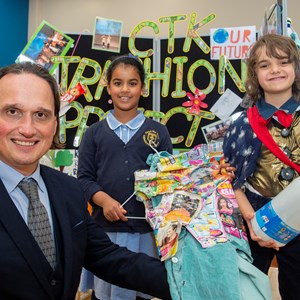 FOURTEEN local primary schools competed to see who had the 'eco factor' in a celebration event held at De Montfort University.
The joint eco-schools and Food for Life event, on Friday (14 June), invited pupils from school councils, environmental clubs and school nutritional action groups to share their work and find out what other schools have been doing to save energy, promote sustainable food sources and make their schools more environmentally-friendly.
School pupils and staff set up stalls showcasing their work in the morning, before presenting their projects to more than 30 judges who visited each stall.
Judges included staff from Birdlife Malta, the University of Leicester, De Montfort University, Central England Co-operative and Keep Britain Tidy.
The overall Food for Life winners were Oaklands School for their whole school efforts, while Bridge Junior School took the overall eco-school award.
Pupils then picked their favourite stall as the winner of the 'eco-factor'. This went to Sandfield Close Primary School for their eco-project on lichen species linked to air quality, as well as for their Gardening Grandmas project.
Certificates were also given out to all schools for participation. Further awards handed out included a judges' special award for outstanding project of the year, which went to Braunstone Community Primary for their allotment development and food growing.  
This year will also see the second round of healthier air for school awards. These recognise schools' achievements in areas such as promoting walking to school and holding community events to raise awareness of air quality.
In the healthier air for schools awards, winners included Bridge Junior School, Leicester Islamic Academy and Sandfield Close Primary School. To gain the awards, schools have participated in ongoing projects with Sustrans and Living Streets, worked to at least silver standard for their eco-schools award, and held  community awareness events about air pollution.
Cllr Adam Clarke, deputy city mayor for environment and transportation, said: "It's now widely accepted that we are facing climate emergency. It's more important than ever that we all work together to respond to this crisis.
"Recent global action has shown that children and young people are extremely concerned about the future of the planet. This celebration is a fantastic chance to highlight the innovative ideas and projects some of our schools have implemented to help us all to live more responsibly.
"We're also committed to improving air quality in the city, with ambitious plans to cut emissions to improve health outcomes. It's great to see schools supporting us in that aim." 
(ends)