Sports day marks Learning Disability Awareness Week
Published on Tuesday, June 25, 2019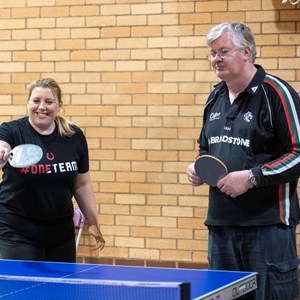 PEOPLE with learning disabilities took part in a free sports day last week to mark Learning Disability Awareness Week.
The event, held at Leicester Leys leisure centre on Thursday (20th), offered people with a learning disability the chance to try out a range of activities, including dance, table tennis, cycling and basketball. Families and carers were also invited to join in, and all got free access to the swimming pool and gym for the day.
The theme of this year's Learning Disability Awareness Week (17-23 June) was sports and inclusion, helping people with a learning disability to overcome some of the barriers they could face when taking part in physical activity.
Deputy city mayor Cllr Sarah Russell, who leads on social care, attended the event. She said: "Learning disabilities affect around 2,000 people in Leicester, and for each person, it affects them differently.
"We want to make sure that all of these people – and their families – feel welcome and included to take part in whatever physical activity they choose.
"We plan to launch a new learning disability strategy for Leicester in the coming months and as part of this, we will commit to ensuring that sports and leisure activities are inclusive for all. It's important that we promote healthy lifestyles and provide varied opportunities for everyone."
The taster activities were organised by staff working in social care, sports and public health at the city council. Staff from the primary care liaison nursing team at the NHS Leicestershire Partnership Trust also provided support.
Ivan Browne, director of public health at Leicester City Council, said: "It was great to see such a good turnout for this event, with members of the Mosaic club and other learning disability support groups joining us for the day.
"We were very pleased to welcome Donna Bishop to the event, a local learning disabilities sports ambassador who has previously competed at the Special Olympics, which was hosted by Leicester in 2009.
"Donna has since gone on to amass nearly 40 medals at various Special Olympics and other sporting events. Donna is a great example of how positive sporting achievement and participation can help to build self-confidence, health and overall wellbeing."
To find out more about support for people with learning disabilities in Leicester, visit www.leicester.gov.uk/adultsocialcare
(ends)