Strategy sets out city's holistic approach to health and wellbeing
Published on Thursday, June 27, 2019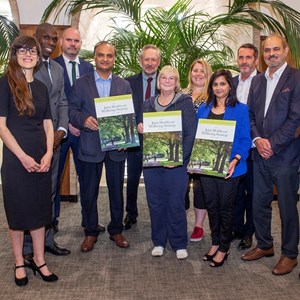 A NEW strategy that aims to improve the health and quality of life of people in Leicester over the next five years has been published by the city's Health and Wellbeing Board.
Developed in partnership with key stakeholders in the city, the strategy looks beyond the remit of healthcare alone and considers the wider socio-economic, cultural and environmental factors that can have an impact on an individual's physical and mental health.
Acknowledging the importance of issues such as education, income, employment, housing, social isolation and the local environment, the new strategy flags up some of the steps that are already being taken to address health inequalities in the city – and highlights areas where more needs to be done to make Leicester a healthier place to live and work.
It also considers how to promote lifelong positive mental health, how to give children the best start in life, how to encourage people to make sustainable and healthy lifestyle choices, and how to support people as they age.
With behaviours such as smoking, excessive drinking, drug use, poor diet and inactivity contributing to poor health and reduced life expectancy, and with an estimated 34,000 people in the city living with a mental health problem, the challenges for Leicester are clear.
And while the strategy does not provide all the answers, it will help guide the city's response to these challenges over the next five years.
"This strategy will provide focus and direction for the work of the health and wellbeing board and help shape the actions needed to address the complex health challenges that Leicester is facing," said assistant city mayor Cllr Vi Dempster, who chairs Leicester's Health and Wellbeing Board.
"It's clear that we need a holistic approach that considers all the factors that determine someone's health and wellbeing, and this strategy recognises the importance of mental health as well as physical health. We also need a collaborative approach, with the city council and health and social care providers working closely with local businesses and the voluntary sector.
"We don't have the answers to all the challenges yet, but this joint strategy is a vital step forward and I would like to thank all of our partners who have contributed towards its development, and who share our commitment to improving the health and wellbeing of everyone who lives and works in Leicester."
The Health and Wellbeing Board is required by law to publish a joint health and wellbeing strategy. All members of the board - who represent East Midlands Ambulance NHS Trust, Healthwatch Leicester, Leicester City Clinical Commissioning Group, Leicester City Council, Leicestershire Fire and Rescue Service, Leicestershire Partnership Trust, Leicestershire Police, NHS England and University Hospitals of Leicester – will be asked to pledge their commitment to the new five-year strategy.
Anyone interested in finding out more can download the new strategy by searching for 'health and wellbeing' at www.leicester.gov.uk  
An action plan that supports the strategy's objectives is also available to download.
ends
Photo caption: City Mayor Peter Soulsby joins members of the Health and Wellbeing Board to launch Leicester's new five-year health and wellbeing strategy