Air pollution in Leicester at lowest ever recorded levels
Published on Wednesday, March 20, 2019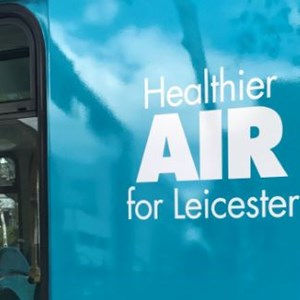 AIR pollution in Leicester is at its lowest ever recorded levels, according to the latest figures released by the city council.
The latest figures – collected from monitoring stations at five key locations across the city in 2018 – show that Leicester is meeting all current EU air quality objectives except for Nitrogen Dioxide (NO2).
However, the annual levels of NO2 in 2018 were at the lowest recorded since air quality monitoring began in Leicester some twenty years ago.
European and national guidelines set a limited of 40micrograms per cubic metre (µg/m3) for nitrogen dioxide levels in the air.
Average levels of NO2 across the city have improved at all five locations since last year and represent a reduction of over 35 per cent since 2010, when the highest levels – of to 80µg/m3 – were recorded.
Levels of NO2 recorded at Abbey Lane and Melton Road continue to be below the EU objective limit.
At Abbey Lane recorded levels have fallen from 33µg/m3 in 2017 to 31.6 µg/m3 last year. Melton Road's figures show a similar reduction from 39.7µg/m3 in 2017 to 38.7 µg/m3 last year.
The most significant annual reduction was measured at Vaughan Way, where levels fell from 52.6µg/m3 in 2017 to 45.3µg/m3 last year.
Levels of NO2 recorded at St Matthews Way show a reduction from 43.7 µg/m3 in 2017 to 41.7µg/m3 in 2018, and at Glenhills Way levels have dropped from 52.9µg/m3 to 49.4µg/m3.
City Mayor Peter Soulsby said: "These latest figures are very encouraging and show that we have achieved huge improvements in air quality across the city in recent years.
"As part of our Air Quality Action Plan we are making significant investment in a wide range of measures and working closely with interested partners in the city to improvement air quality.
"These latest figures will be welcome news for people who live and work in Leicester but we know that there is still more that must be done.
"Our successful bids to attract millions of pounds of support from central Government will help us accelerate and extend our ambitious plans to tackle air pollution."
Deputy City Mayor Cllr Adam Clarke, who leads on environment and public health, said: "I am incredibly proud of the progress we're making in Leicester to tackle air pollution.
"We are now recording the lowest levels of NO2 we've ever seen which is excellent news, but we still face ongoing challenges to bring the whole city within target limits.
"We remain absolutely committed to making further improvements by bringing forward ambitious plans for cleaner, greener buses and taxis, encouraging take-up of electric and hybrid cars and investing in infrastructure to help even more people to cycle safely in and around our city.
"Air pollution harms people's health, places a burden on the NHS and is bad for the economy. We are determined to continue to accelerate the improvements we have seen in recent years and achieve our aim of healthier air for Leicester."
Air pollution occurs when the amount of certain pollutants exceed recommended levels based on their known effects on health.
Leicester is compliant with national guidelines for all other currently stated pollutants. These include benzene, 1,3-butadiene, carbon monoxide, lead, sulphur dioxide and PM10 particulates. All local authorities will be required to monitor and report on PM2.5 levels from 2020.
Leicester's annual air quality figures are ratified by experts at King's College London as required by the Department for Environment, Food and Rural Affairs (Defra).