Artists chance to get involved in Riverside Festival
Published on Thursday, March 28, 2019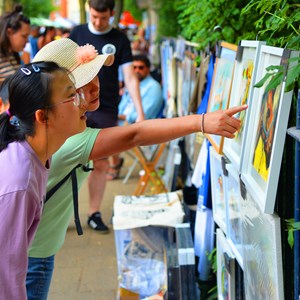 ORGANISERS of Leicester's biggest free family festival are calling on local artists to get involved in displaying and selling their work.
The annual Riverside Festival transforms the Mile Straight of the River Soar, Bede Park, Castle Gardens and Western Boulevard on the weekend of June 1 and 2, with a programme of events including live music and dancing, street performances, fun on the river, street markets and a range of other attractions.
Art on the River – one of the festival's newest events which made its debut last year – will give budding local artists and photographers the chance to display and sell their work on the banks of the River.
The space will be open to any local artists, painters, photographers, 2-D and 3D artists to take part and to showcase and sell their work to up to 40,000 festival-goers.
Artists can rent three metres of space for £25 for one day, and £35 for two days. All artwork needs to be mounted and artists will be responsible for looking after their own work.
Artists wanting to exhibit at Art on the River can contact Mandeep Kaur on 0116 454 3600 or by emailing Mandeep.Kaur@leicester.gov.uk
Information is also available at the Leicester Riverside Festival 2019 Facebook page. https://www.facebook.com/events/791333037888520/
The Riverside Festival is part of a programme of summer events taking place across Leicester from May to September.
(Ends)