City children join the Great Big School Clean
Published on Monday, March 18, 2019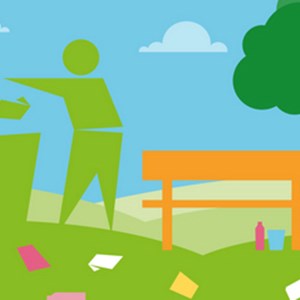 MORE than 2,000 young people from 35 Leicester schools will be taking part in a month-long litter-picking campaign that gets under way on Friday (22 March).
The national campaign ­– called The Great Big School Clean – will build on the momentum of the Litter Less initiative, which has seen local youngsters picking up litter from their school grounds and the surrounding streets over the past few months.
All the litter collected by the children so far has been carefully weighed – and, on Friday, the champion litter-pickers will be rewarded with prizes at the launch of the Great Big School Clean in Abbey Park.
Deputy city mayor Cllr Adam Clarke, who leads on the environment, said: "We know that there are plenty of responsible, community-minded children and young people in Leicester who recognise that littering is unacceptable and that it can harm wildlife and ecosystems, especially if it ends up in the water.
"Celebrating the work of these enthusiastic young people is a great way of demonstrating that we can change people's attitudes for the better by starting with the next generation. We want them to grow up knowing that taking responsibility for your rubbish is the norm."
The Great Big School Clean runs from 22 March to 23 April. Organisers Keep Britain Tidy hope the month will get off to a flying start on Friday, with schools across the country taking part in what could be the biggest ever schools' clean-up.
In Leicester, more than 100 schools are part of the city council's Eco-Schools programme, which provides specialist support to help schools improve their environmental awareness. With over 30 city schools achieving the prestigious green flag award so far, Leicester has its sights on being the number one local authority for green flag awards by the end of this academic year.
The Litter Less campaign is a joint initiative of the Wrigley Company Foundation and the Foundation for Environmental Education.