City council to work with sponsor Santander on new bike share scheme
Published on Wednesday, March 20, 2019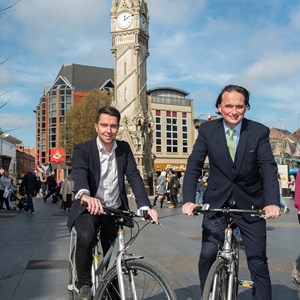 LEICESTER City Council is set to team up with Santander to bring a new bike hire scheme to the city.
The £600,000 scheme will see 500 bikes available for people to hire in the city, making journeys on Leicester's improved cycle network easier than ever.
It will be funded by the city council's recent successful bid to the Department for Transport's Transforming Cities fund and through a partnership with Santander that includes funding and marketing support to encourage people to take advantage of the scheme.
Overall, the city council was awarded nearly £8million to spend on a range of major projects. As well as the bike share scheme, these will include developing better walking and cycling links and upgrading to electric buses on the Birstall park and ride route.
Deputy city mayor Cllr Adam Clarke, who leads on the environment and public health, said: "The £7.84million Transforming Cities award is great news for our city, and will mean we can implement large-scale projects that will have a positive impact on Leicester people – cutting air pollution, improving public health and reducing traffic congestion.
"This new scheme is an exciting prospect and we're very pleased to be working with Santander – who already sponsor London's hugely successful bike hire scheme – to make it a reality."
Keith Moor, chief marketing officer at Santander UK, said: "It's fantastic to be collaborating with Leicester City Council on its bid to bring a cycle scheme to the city. We've seen through our experience elsewhere in the UK the huge benefits cycle schemes can bring to local communities. As a major employer in Leicester, we're really excited at the opportunity to support the council in creating a first-class cycle scheme the city can be truly proud of."
The hire scheme is likely to include more than 50 docking stations across the city, where cycles can be picked up and returned. It will cover the city centre and surrounding neighbourhoods, including railway and bus stations, Leicester Royal Infirmary, university and college campuses, major workplaces and sports stadia.
Maps and information will be available to help people make the most of Leicester's growing network of cycle tracks and traffic-calmed streets.
People will need to register to use the bikes, but one-off 'pay and ride' fares will be available, as well as annual or monthly membership schemes.
Cllr Clarke added: "We know that around 17,000 trips are made by bike in Leicester on an average day. Numbers to and from the city centre have doubled to almost 5,000 in recent years and we expect them to double again by 2024.
"Cycling is quick, direct, pollution-free and affordable, especially for trips of one or two miles. This scheme, along with our ongoing work to provide safe and high-quality cycle routes across the city, is an important catalyst to help us achieve the aims of our Cycle City Action Plan and increase the numbers of daily cyclists."
The city council will now invite operating companies to bid for the contract to run the scheme. It is hoped it could be up and running towards the end of the year. 
(ends)