Council's £500k investment to transform disused nursery into adult learning hub
Published on Wednesday, March 13, 2019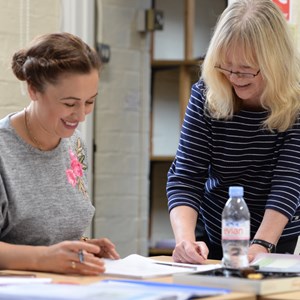 A DISUSED former nursery building in Beaumont Leys is being transformed into a new adult learning hub thanks to a £500,000 investment by Leicester City Council.
The council-owned former Bishopdale nursery building, in Bishopdale Road, will be redeveloped and equipped with new learning facilities for use by the Leicester Adult Skills and Learning Service (LASALS).
The move will create a larger, newer and more easily accessible building in which to house the popular Fosse Arts group, which currently has use of the Fosse Centre, a former Victorian school building in Westcotes.
City Mayor Peter Soulsby announced the investment at a visit to Leicester Adult Education College on Wednesday, March 13, to celebrate students' successes.
Under the plans, Fosse Arts would be relocated to Beaumont Leys, with the Bishopdale building transformed into a high-quality learning environment with tuition spaces tailored to meet the arts group's requirements, as well as meeting modern accessibility needs.
The inside of the building would be reconfigured to include new studio and workshop spaces, as well as housing new pottery kilns. There is also an external space and onsite parking for 18 cars within the one-acre grounds. The site is also easily accessible by bus from Bishopdale Road.
Consultations carried out in summer 2018 with the groups using Fosse Arts were supportive of the move to newer, larger premises.
Peter Soulsby said: "By relocating Fosse Arts to this new building, we can offer this popular arts group better, bigger and more suitable facilities, as well as making a significant investment in Beaumont Leys and bringing back into use this disused council building.
"The Fosse Centre currently used by Fosse Arts does have significant limitations because of its age and size, which makes it very hard for us to improve it to modern standards of accessibility, or indeed to include the facilities which the groups there need.
"Talking to users of the current venue, we've had a positive response to the plans to relocate to these new facilities which offer us far more scope to improve and design them around their new use."
Fosse Arts currently runs a series of formal pottery and art courses, including classes for people with learning difficulties and mental health problems, which have 279 enrolments for this year. In addition, more than 150 people a year attend the nine informal weekly pottery and painting sessions. A series of projects delivered in partnership with local schools and community groups is also offered, including those aimed at disadvantaged groups.
Classes are well attended with an average uptake of 80 percent.
However, The Fosse Centre isn't easily accessible and has poor welfare facilities, along with minimal parking, high running costs and poor energy efficiency.
Moves to upgrade the facilities there wouldn't be cost effective and limited in scope.
The former Bishopdale Road nursery site was built in 1993 and was privately operated until December 2016. It has stood vacant since, but can readily be reconfigured to house the teaching and exhibition spaces needed.
The anticipated £500,000 investment would include about £75,000 worth of work to strip out the building and remove asbestos, followed by about £125,000 of building alterations, £90,000 of electrical works and £100,000 of mechanical repairs.
Work is expected to begin later this spring and be completed by September 2019 in time for the next academic year.
(Ends)