Cultural Quarter to get £145,000 makeover
Published on Thursday, March 7, 2019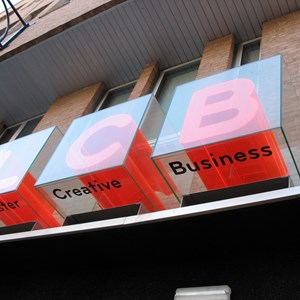 ST GEORGE'S Cultural Quarter in Leicester is getting a revamp thanks to £145,000 of city council investment.
Under the plans, changes will be made to Orton Square to open up the space and make it more versatile for everyday use as well as for events and festivals.
Improvements will include removing some redundant bollards at the edge of the square, as well as relocating cycle racks from outside St George's Church to the lay-by on Rutland Street. The lay-by will be redesigned, and a pay and display machine which is no longer required will be removed.
Around £65,000 has been allocated from council funds for the work. A further £80,000 will be used to improve the courtyard at Leicester's LCB Depot as part of the project.
New concertina doors will be installed to open up the Depot's popular café area, and essential maintenance will be carried out, as well as some improvements to security.
The council's LCB Depot provides office and business space for a range of creative and cultural industries, and also hosts regular community and arts events. Its courtyard area has increased in popularity and usage in recent years.
Further planned improvements include expanding the popular kitchen garden, upgrading facilities for cyclists, installing overhead sails to provide sun cover and refurbishing the courtyard's walls and wooden cladding. Artwork will also be commissioned for the area.
Funding for the project will come from the city council's Economic Action Plan, which invests in the city's economy to promote growth.
Deputy city mayor Cllr Adam Clarke, who leads on the city's Cultural Quarter, said: "Our Economic Action Plan prioritises investment in St George's Cultural Quarter. We want to ensure it's a thriving centre for art and culture, which is why it's important to continue to invest in improvements to the public realm.
"We know these improvements can help to drive growth and make the area even better for the increasing number of people living there. Making these fairly minor changes to the layout of Orton Square will help it to become a more flexible space for events.
"The LCB Depot's café and courtyard area is already very successful as an informal meeting place, as well as hosting various social events throughout the year. This is a much-needed and valued outdoor space in the city centre, and this revamp will ensure it continues to thrive."
Work on the Orton Square part of the project is due to start next week (w/c 11 March). The LCB Depot courtyard will still be open to the public while work is carried out.
(ends)