Event celebrates adult learners' successes
Published on Monday, March 11, 2019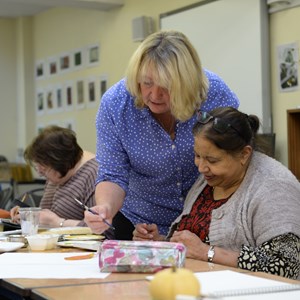 AN event celebrating the successes of adult learners in the city, as well as launching the latest plans to develop the service further over the next five years, is taking place this week.
Leicester Adult Education College, in Hansom Hall, Belvoir Street, is hosting the event on Wednesday, March 13, from 12noon to 1.30pm, to recognise achievements by learners involved in the service.
Among those attending are former offenders from the Out For Good Project, who now sell cards and other items to raise funds for Macmillan Cancer Support using skills learned through the city's adult learning programme.
Students from the Sikh Tapestry Project, who have worked with the University of Nottingham's history department to create a stunning two-panel Gurdwara tapestry commemorating the role of Sikhs in the First World War are also being recognised.
A number of students who have been learning English will also be given certificates for their successes, as will a group of Access To Higher Education students, who have all secured offers of university places.
The event will be attended by City Mayor Peter Soulsby and Assistant City Mayor responsible for adult learning and skills, Cllr Mustafa Malik, who together will be launching the Leicester Adult Skills and Learning Service (LASALS) plan for 2019-2023.
The plan details LASALS role in continuing to raise the standards of the curriculum, designing services based round learners' needs, securing the long-term financial security of the service, providing a suitable learning environment, developing a culture of innovation and making a positive contribution to the wider community in Leicester.
City Mayor Peter Soulsby said: "Leicester Adults Skills and Learning Service plays a vital role in helping adult learners fulfil their true potential and learn the skills needed to be part of a thriving workforce in the city.
"I am delighted to be able to recognise the successes of the diverse range of students who should be justifiably proud of their achievements, which place them in a good position to make the most of Leicester's reputation among employers as a city with a highly-skilled and young workforce.
"Their success is part of the wider work we carry out with local universities to encourage student businesses and new start-ups, which encourages more talent to be retained within the city. Since 2011, our Leicester to Work programme, which has focused on helping people who are most in need of training and work has created more than 5,000 jobs.
"The LASALS plan for 2019-2023 lays out how the Adult Skills and Learning Service contributes to our priorities for the future development of our city including improving individuals' employability skills, supporting parents and families to thrive, building communities and combatting loneliness and isolation."
Cllr Malik added: "It is has been a great pleasure to get to know this service since becoming the assistant mayor responsible for the Adult Skills and Learning Service earlier this year.
"I've been very impressed with the vibrancy of the curriculum, the quality of teaching and learning on offer and the impact taking part is having on individuals and communities in Leicester.
"I am proud to be able to support and encourage the future development of the service through this plan, and look forward to seeing many more success stories."
(Ends)