Haymarket Health opens in city centre
Published on Friday, March 1, 2019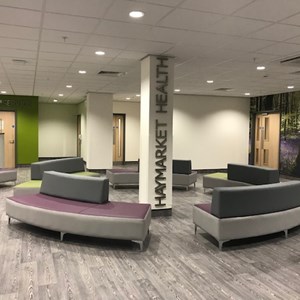 A NEW base for sexual heath services in Leicester opens in the city centre this weekend (Sat 2 March).
Haymarket Health, on the first floor of the Haymarket shopping centre, has been transformed from an empty shop unit into a modern, bright and welcoming base, with 13 consulting rooms for doctors and nurses to see patients.
The free and confidential NHS service – which is open to patients across Leicester, Leicestershire and Rutland – will offer contraception, testing and treatment for sexual infections, cervical screening and lifestyle information. It will be open from 8.30am-6.30pm Monday to Friday and from 10am-4pm on Saturdays.
People will be able to book appointments online, turn up and wait to be seen, or use self-service facilities at the base, for example to get a self-testing kit or condoms.
Sexual health services are commissioned by councils as part of their public health remit. Plans to move the city's service from its current base in St Peter's Health Centre, Highfields, to the Haymarket centre were approved last year, with £1.6m allocated from Leicester City Council for the relocation project.
The move to the city centre will significantly reduce rental costs, resulting in long-term savings to the council's revenue budget.
Cllr Adam Clarke, deputy city mayor and lead on public health, said: "We've made a major investment in these new premises because we want to provide the best quality sexual health services for local people.
"In other parts of the country, sexual health services have moved to city centre locations like this one with much success. It makes it much easier to access for people coming from all parts of the city and county."
Service manager Kim Knight said: "We are extremely excited to bring sexual health services in to the city centre. The new clinic will allow us to improve accessibility and offer better choice across Leicester, Leicestershire and Rutland."
The current clinic has about 28,000 visits a year.
For more information on accessing the new service, go to www.leicestersexualhealth.nhs.uk
There are other clinic sites available across Leicester, Leicestershire and Rutland. For more information, visit www.leicestersexualhealth.nhs.uk/clinic-and-service-finder
(ends)