Plans announced for multi-million pound housing schemes for vulnerable people
Published on Thursday, March 21, 2019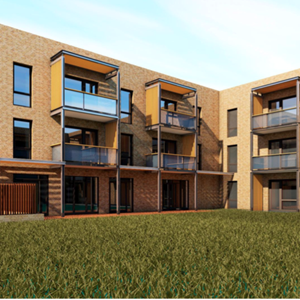 PLANS for a major multi-million pound scheme to build more than 150 homes for vulnerable and older people in the city have been given the go-ahead.
The two 'extra care' schemes – one in Braunstone and one in Beaumont Leys – will provide extra support to vulnerable people to help them to live independently in the community. They will provide one and two-bedroom flats for a range of people, including adults with a learning disability or mental health needs, and older people.
The scheme at Tilling Road, in Beaumont Leys, will consist of 73 units, while the scheme at Hamelin Road, in Braunstone, will provide 82 units.
Both developments are being created thanks to a partnership between Leicester City Council and a consortium that will oversee the construction – and later the management – of the accommodation.
The city council will be transferring the land to the Leicester Independent Living consortium, to allow them to build the flats on the council's behalf. In return, the city council will be able to nominate who should live in the homes from the council's housing register.
Each build is estimated to cost in the region of £11million. The city council will contribute around £2.45million from Right to Buy receipts, with the rest of the build costs funded by the consortium.
City mayor Peter Soulsby said: "These two schemes have been part of our plans for a very long time, providing much-needed supported accommodation for some of our most vulnerable residents.
"We had to pause these plans in 2016 after the Government announced it would be capping housing benefit payments for people in extra care. This would have left the council with a rent shortfall.
"The Government has now announced it will not be implementing the cap, so our plans can proceed.
"Not only will this development provide specialist new homes, it also represents a considerable investment in the city by the Leicester Independent Living consortium, which will also provide local job opportunities and apprenticeships during the construction phase, and will sub-contract to other local businesses."
Cllr Vi Dempster, assistant city mayor responsible for adult social care, said: "Supporting people to live independently in their communities is one of our key priorities, helping to prevent social isolation and promote inclusion – and it's what people want.
"Extra care accommodation gives people the flexibility to choose the level of support they need, while living in a community that will support them. It's great news that these two developments are going ahead."
Debi Marriot Lavery, on behalf of Leicester Independent Living Ltd, said: "We are delighted to be leading this development of much-needed extra care accommodation for the city of Leicester. Our consortium is a long-term partnership between Living Plus – part of Places for People, one of the country's prominent housing associations – and Morgan Sindall and Ashley House, who will work together in a joint venture called Morgan Ashley.
"Living Plus/Places for People will fund and manage the new apartments, while Morgan Ashley are specialists in developing extra care accommodation.
"We have engaged Wildgoose Construction as our main building contractor, which will be focused on working with suppliers local to Leicester providing training and apprenticeship opportunities. We look forward to continuing to work with the council over the coming months."
(ends)