Proposals set out for new workspace at Pioneer Park
Published on Tuesday, March 19, 2019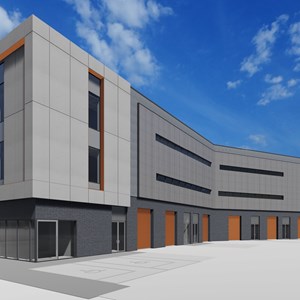 PROPOSALS for a development that would provide much-needed commercial workspace at Leicester's Pioneer Park have been outlined by the city council.
Indicative designs for the scheme show a three-storey building next to the existing managed workspaces at Dock, offering production space on the ground floor and two floors of office space above.
The new building would provide 14 individual units – ranging in size from 800-1,800 sq ft – with its bigger units providing grow-on space for Dock-based businesses that are ready to expand.
Designed as an extension to Dock, the new building would share Dock's reception and meeting room facilities – and it would complement the original building, with similar materials used in its construction.
Having purchased the brownfield site required for the new workspaces last year, the city council is now working with a local developer – Brackley Property Developments – to deliver the scheme.
Under the proposals, Brackley would design and build the scheme, which would become part of the Dock campus and be managed by the city council.
City Mayor Peter Soulsby has welcomed the proposals.
"Our intention has long been to build on the success of Dock by complementing that scheme with a space where start-up businesses can take their next step," he said.
"I'm pleased that we've been able to work with a local developer on a scheme that would provide an extension to Dock.
"Our ambition is to establish Pioneer Park as a hub for technology and knowledge-based industries, encouraging enterprise and creating jobs – and the success of Dock gives us a good base on which to build.
"These new managed workspaces would be a key piece in the jigsaw, providing flexible grow-on space for start-up businesses, right next door to the thriving community at Dock and close to the exciting Space Park Leicester development on the former John Ellis site."
Subject to planning permission, work on the £5million extension to Dock could get under way in summer 2019 – with the first tenants moving in 12 months later.
Around £2.15milion from the Government's Local Growth Fund – via the Leicester & Leicestershire Enterprise Partnership – is available for the scheme.
More than £1million has been earmarked from the city council's Economic Action Plan, with the remaining £1.72million being met by prudential borrowing and land receipts.
The City Mayor is due to make a decision on funding for the scheme on 27 March.
Note to editors: 
Local Growth Fund
Local Enterprise Partnerships are playing a vital role in driving forward economic growth across the country, helping to build a country that works for everyone.
That's why by 2021 Government will have invested over £12bn through the Local Growth Fund, allowing LEPs to use their local knowledge to get all areas of the country firing on all cylinders.
Some additional key facts:
There are 38 LEPs covering the whole of England 

The government has awarded £9.1bn in three rounds of Growth Deals to local areas to drive 
economic growth. 

LEPs are investing in a wide range of projects including transport, skills, business support, 
broadband, innovation and flood defences.