Refurbishment of city's children's homes well under way
Published on Wednesday, March 13, 2019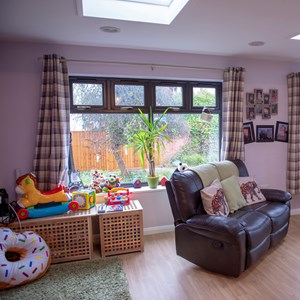 A MAJOR programme of works to upgrade Leicester's five residential children's homes is well under way.
Around £1.5million of city council investment is enhancing the facilities for young people at the homes, with increased living space, new outdoor play equipment and refurbished reception areas amongst the improvements.
Refurbished bathrooms, new sensory areas, additional indoor play space, replacement windows and better lighting are also planned.
At Barnes Heath House – a residential home for young people with a range of disabilities and complex health needs – a new extension provides much-needed additional space. Floors have been levelled and doors widened to improve accessibility, while bathrooms at the home have been updated too. Indoors, there's a new soft play area ­–­ and outdoors in the garden, there's a new basket swing for the children to enjoy.
City Mayor Peter Soulsby, who visited Barnes Heath House yesterday (Tuesday) to see the improvements, said: "It's important that we continue to invest in these buildings so that they provide a safe and happy home for the children who live there, and for those who come for respite care.
"The physical changes we've made to the homes, such as improvements to reception areas and wider doorways, will make the buildings function much better, while the investment we've made in both indoor and outdoor play areas is very important to our young people's wellbeing.
"Refurbishment works are now well under way at four of our children's homes, with works due to start on the fifth – and final – home later this year."
Barnes Heath House is recognised as an exceptional home, providing high quality care to the children who live there and to those on short breaks. A recent inspection by OFSTED saw the home retain its 'outstanding' rating, with inspectors noting that "children receive excellent individualised care in an environment where staff have high aspirations for them".
Cllr Sarah Russell, deputy city mayor for children and young people's services, said: "Barnes Heath House is an amazing facility, which is clearly reflected in its OFSTED rating.
"The staff at the home are totally committed to improving the lives of children and their families, whether the children live there or are staying there on a short break.
"This investment in the home will make a big difference – and means that our dedicated staff will be able to provide the children in our care with even more opportunities."
Barnes Heath House provides nine places for young people aged 8-18, with some children living there on a full-time basis and others staying there for short breaks or emergency care.
It's one of four children's homes that are currently being refurbished, with work at Leicester's fifth residential children's home due to get under way this year. As part of the investment programme, facilities are also being improved at the city's two contact centres.