Survey shows people value their neighbourhood services
Published on Wednesday, March 20, 2019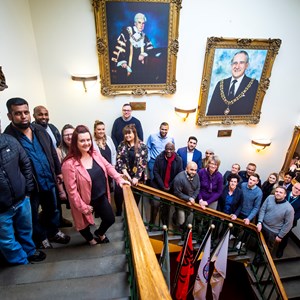 NEIGHBOURHOOD services in the city are delivering a high satisfaction rate among people who use them, according to the results of a recent survey.
The customer survey, which was carried out in November 2018, attracted 3,082 responses, of which 92 per cent said they were satisfied with their visit to a neighbourhood or community centre.
Of that 92 per cent, 90 per cent further specified that they were happy or very happy with the services on offer.
The responses were gathered from 30 venues across Leicester, including local libraries, community centres and the city council's six multi-access centres, which offer access to a range of different services under one roof.
The survey found that 38 per cent of people attended to take part in a specific group or activity in libraries and community centres, including under-fives sessions, craft groups, social clubs and groups to help people improve their English.
At multi-access centres, 35 per cent of people visited to access wider council services, such as adult learning courses, appointments with housing officers or to use the council's self-service facilities.
Thirty-three per cent of people attended to borrow a book, while 22 per cent of respondents were attending to use a computer.
Cllr Kirk Master, assistant city mayor responsible for neighbourhood services, said: "It's great news that so many people are pleased with the services we offer. It shows that our model of locating lots of different services in key neighbourhood buildings is working.
"It's very important that people have access to quality services in their communities, so we're keen to keep satisfaction rates high, which is why it's important to conduct surveys like this one and act on the results, so that we can further improve."
Across the city, other neighbourhood buildings have been successfully transferred to community organisations for them to run.
Cllr Master added: "Our policy of offering up key buildings for groups to run is also going well and we're very pleased with the results so far. It means people continue to have access to the buildings and services we know they value.
"We have to look at innovative ways of providing services for the future, and what these results show is that this is working for people."
To find out more about library and community services in the city, visit www.leicester.gov.uk/libraries and www.leicester.gov.uk/communitycentres
(ends)