Work to begin on front wall improvement scheme
Published on Friday, March 1, 2019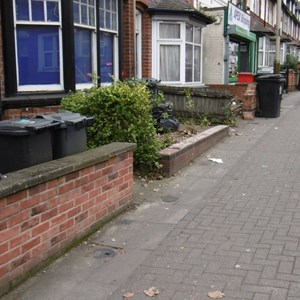 WORK is due to begin on a pilot scheme to rebuild and improve the fronts of nearly two dozen houses in a busy Leicester community.
Leicester City Council is investing £150,000 to work with householders along a stretch of Evington Road and St Stephens Road, to replace or rebuild shabby, damaged or missing front garden boundary walls and gates.
It is the first stage of a number of similar schemes planned for communities across the city over the coming years, and builds on previous work carried out in the 1990s at many locations across the city.
That work helped vastly improve the appearance of properties, in turn prompting confidence and investment among property owners.
In this latest scheme on Evington Road, the city council is working with construction trade students from Leicester College to carry out the work on 23 mostly privately-owned properties along the road.
Many of the terraced houses have missing front garden walls, where they have either collapsed in disrepair, or been removed over time and never replaced.
In some cases householders have not rebuilt them to prevent them being used by people congregating and sitting on them, and due to concerns over related antisocial behaviour.
The city council has entered into legal agreements with the property owners to carry out the work, which will see the removal of any existing walls in poor condition, and replacing them with one-metre high boundary walls, with the option of a new metal gate.
In many cases, walls will be topped with diagonally-placed bricks to create an surface to deter people from sitting on them.
Householders will contribute a nominal sum of £1 each to enter into a legal agreement with the council to carry out the works.
The works will take about six weeks to complete, and should take place in the coming months, though the exact start date is yet to be confirmed.
Leicester assistant city mayor for neighbourhood services, Cllr Kirk Master, said: "Evington Road is a key route into the city centre from the south and east of the city, but unfortunately parts of it look very shabby due to the number of missing or damaged front garden walls facing onto the street.
"This investment will really help improve the appearance of this route and the surrounding area, and by entering into an agreement with Leicester College we are giving construction students the chance to get involved and hone their skills.
"We carried out a programme of similar work in the 1990s but weren't able to cover all areas of the city, which is why we are revisiting the scheme now.
"That original work made a huge positive difference both to the appearance and safety of communities, and property owners at the time told us how it had helped improve their confidence in investing further in those neighbourhoods.
"So once again, we're working with residents to get their agreement on this scheme and to ensure that the work benefits everyone."
Funding for the pilot scheme is coming from the city council's Capital Programme budget. A new pot of funding is being made available specifically to create enclosed spaces such as front gardens in terraced homes.
(Ends)