City gears up for fantastic summer of cycling
Published on Thursday, May 23, 2019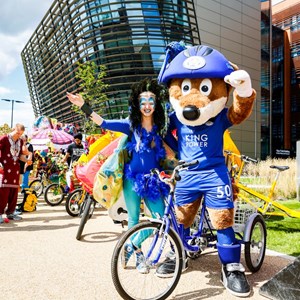 NEIGHBOURHOOD bike festivals, themed rides and the return of HSBC UK Let's Ride Leicester are just some of the activities that will be on offer as the city gears up for another fantastic summer of cycling.
From Saturday 17 until Saturday 31 August, the two-week Ride Leicester festival will bring more than 30 fun, free cycling-related activities to the city centre and neighbourhoods, aimed at helping people to enjoy discovering the city by bike.
On Sunday 25 August, HSBC UK Let's Ride Leicester will see thousands of riders of all abilities join a 6km traffic-free, mass participation ride across the city – and everyone's invited. To participate, simply turn up and get cycling!
The event will run from 11am until 4pm, with the route taking in Leicester's Old Town, Jubilee Square, Cathedral Gardens, new Market Square and the King Power stadium, where cyclists get the chance to ride alongside the pitch.
Cycling-themed activities will be dotted along the route, with the chance to create smoothies or a paint-spattered work of art on Cyclone Works' novelty bikes, try out bike polo as part of Open Streets, or test-ride some specially adapted bikes with Wheels for All.
On Bede Park, a stage will be set up for interviews and static bike races, the Solo Circus will showcase unique unicycling skills, and a food village will provide the ideal stopping-off point. Riders will be also able to test their skills in the Sprint Zone, along Western Boulevard.
The elite Castle Classic men's race – which has been staged on closed city centre streets since 2013 - will not take place this year. Instead, there's a focus on getting more people into cycling at a grassroots level, with a full programme of Castle Classic amateur races being held at Leicester Cycle Circuit, New College, on Bank Holiday Monday, 26 August.
HSBC UK Let's Ride Leicester will also incorporate Open Streets on 25 August. Taking place in the Old Town area of the city, this monthly event features heritage cycle rides and walks, rickshaw rides, on-street games and activities designed to help people make the most of the newly-refurbished streets in the historic Greyfriars area.   
Further summer cycling activities taking place in Leicester include the annual Schools' Ride on 5 July, plus Open Streets events on the final Sunday of the month throughout the summer. Find out more information at visitleicester.info.
The Ride Leicester festival and HSBC UK Let's Ride Leicester are delivered in partnership by Leicester City Council and British Cycling, with support from numerous local businesses and organisations.
Greyfriars Open Streets is delivered by the city council using funding from the Heritage Lottery Fund.
To find out more, go to visitleicester.info. For information on HSBC UK Let's Ride Leicester, visit letsride.co.uk/events/leicester
(ends)