Hundreds of schoolchildren to celebrate The Daily Mile
Published on Monday, May 20, 2019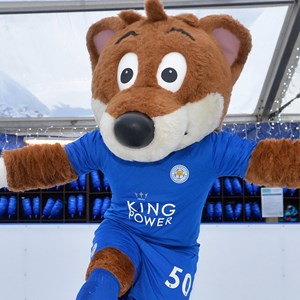 MORE than 250 schoolchildren will gather together at the King Power stadium later this week to celebrate The Daily Mile initiative.
They'll be joined by Filbert Fox and his fellow mascots, as well as by local amateur boxer Paige Murney and founder of The Daily Mile, Elaine Wyllie.
The Daily Mile is an international initiative started by former headteacher Elaine, in which children simply jog or run for 15 minutes – every day, at school, in all weathers and at their own pace. The idea is to improve children's physical, social, emotional and mental health, regardless of their age or circumstances.
At the start of 2018, just three schools in Leicester were taking part in The Daily Mile. Now, 48 schools participate.
The event on 22 May will feature a keynote speech from Elaine Wyllie MBE, a Daily Mile lap around the King Power stadium – featuring mascots Filbert Fox, Welford the Tiger and Charlie Fox - and lots of other sports activities for children to try out.
Paige Murney, who boxes with the Leicester Unity club, will be on hand to help the children warm-up for their Daily Mile and to help spark their enthusiasm for sports. Paige won a bronze medal at the 2017 European Union championships, silver at the Commonwealth Games in Australia last year, and a silver at the World Cup in Cologne last month (April 2019). She is part of Team GB and hopes to compete in the next Olympics.
Paige said: "Anything that gets kids active has got to be a good thing. The Daily Mile is such a simple idea, but it's the sort of activity that can spark a lifelong love of sports in young people. I'm really pleased I'll be able to share my passion for sports with local schoolchildren at this special event."
Deputy city mayor Cllr Adam Clarke said: "The fact that nearly 50 city schools now take part in The Daily Mile is a real achievement for Leicester and a testament to our city-wide commitment to improving children's health. Our vision is to have all city primary schools participating.
"Research has shown that taking part in The Daily Mile can increase attainment in primary schools, and parents have reported a greater interest in health and wellbeing from their children as a result of being involved.
"This great initiative is a simple, inclusive and effective way to get children moving. It's great to be able to celebrate its success in Leicester."
Elaine Wyllie, founder of The Daily Mile, said: "It's wonderful to see such an increase in Leicester schools who are participating in The Daily Mile initiative. By running or jogging for just 15 minutes each day, children are contributing to improved physical, mental, social and emotional health and wellbeing. I can't wait to see all the children doing their Daily Mile in the King Power stadium!"
To find out more about The Daily Mile, visit thedailymile.co.uk
To find out more about sports and exercise activities in Leicester, visit leicester.gov.uk/activeleicester
(ends)