Traffic calming and 20mph zone come into effect in Eyres Monsell
Published on Tuesday, May 21, 2019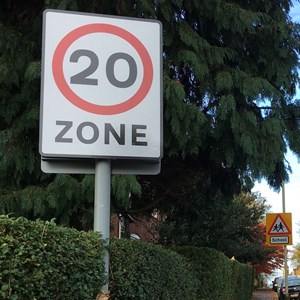 A NEW 20MPH zone covering most of the city's Eyres Monsell community is due to come into effect next week.
The scheme put in place by Leicester City Council covers dozens of residential streets bordered by Glenhills Way to the north, Saffron Lane to the east, Lutterworth Road to the west. It comes into effect on Tuesday, May 28.
It includes 20mph limits, as well as some traffic calming measures. The decision to introduce the new speed limit follows consultation with local residents last year.
In all, 4,300 properties were consulted, and of those residents who replied, 72 percent were in favour of a 20mph scheme and 60 percent in favour of the proposed traffic calming measures.
The vast majority of the streets are in Eyres Monsell, with a number of streets off the A426 in neighbouring parts of Glen Parva also included.
Physical traffic calming measures will include four new speed cushions and two new speed humps on Glenhills Boulevard.
The scheme is costing £54,000 in total, from the city council's capital programme 2018/19.
A number of other road safety improvements have also been completed at the same time in Eyres Monsell as part of the city council's School Run Parking programme.
These include new tactile paving at crossing points, and improved signs and line markings around the two local schools.
Additional parking bays have also recently been installed in Packhorse Road to tackle the problem of badly-parked cars, while a number of locations are being considered for chicanes and footway widening to help cut traffic speeds and reduce rat running.
The 20mph zone is the latest in a citywide programme of introducing speed reductions and traffic calming in residential streets, often around schools, where requested to do so by residents.
(Ends)