Book a behind-the-scenes tour at Abbey Pumping Station
Published on Monday, November 25, 2019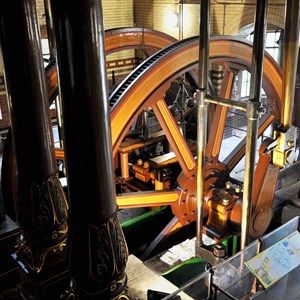 THERE'S a chance to see parts of Leicester's Abbey Pumping Station this weekend that are not normally open to the public.
Small groups of visitors will be taken around the museum's historic engine house on Saturday (30 November), where they will be able to see one of the magnificent beam engines in full steam.
Members of the team that restored the beam engines will lead the hour-long guided tours at 11am, 12 noon, 2pm and 3pm.
To avoid disappointment, tickets – priced at £5 – should be bought in advance from the Visit Leicester store on Gallowtree Gate.  
Deputy city mayor Cllr Piara Singh Clair said: "This is a great opportunity for anyone with an interest in engineering or local history to get close to these extraordinary beam engines.
"Our 'Steam with the Team' events are always popular – and, on a cold autumnal day, one of the cosiest places to be is in the engine house with a beam engine in steam."
Those going on the tour are advised to wear warm clothing and sensible footwear, as the basement has steep steps and can be damp. Visitors should also note that the hour-long guided tour is not suitable for young children.
For more information about the 'Steam with the Team' event, please call the Abbey Pumping Station on (0116) 299 5111.
The Abbey Pumping Station is on Corporation Road, Leicester LE4 5PX.
Further special events at the Abbey Pumping Station include a 'Christmas Toys & Steam Day' on Sunday 8 December.
The display of vintage and classic toys will include Meccano sets and model railways.
Admission to the Christmas event – which runs from 12 noon to 5pm - is £3.50 (£2.50 concessions), or £8 for a family ticket.