City Catering gets silver award from Food for Life
Published on Friday, November 22, 2019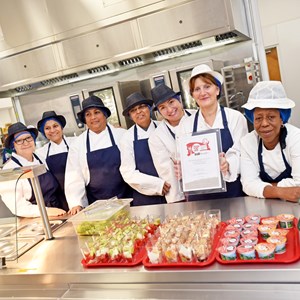 THE city council's school meals service, City Catering, has been awarded 'silver' status from the Soil Association's Food for Life programme.
The award, which was handed out during National School Meals Week (11-15 November), recognises that City Catering supports local suppliers and sources higher-welfare, ethically-produced ingredients, with five per cent of the ingredients it uses certified as organic.
Pasta, broccoli and carrots used by City Catering are all organic. Eggs are sourced from Sileby and Melton in Leicestershire, milk comes from a local supplier, and potatoes are brought in from nearby Lincolnshire.
To gain a silver award from Food for Life, caterers are also awarded points for taking steps to make healthy eating easier. City Catering has reduced the sugar levels in many of the desserts it offers, as well as reducing the use of salt. Also provided are a variety of salads without dressings, 'fruit only' days and a range of healthy eating support materials to help ensure that healthy options are an easy choice for children to make.
City Catering also helps children to make the link between cooking, growing and eating, and is involved in 'grow your own grub' initiatives at schools, running cookery sessions for families and helping young children learn how to improve their cutlery skills. Themed lunchtimes for festivals and events - plus brightly-decorated dining rooms and celebration menus - help to make mealtimes fun for the children.
Cllr Elly Cutkelvin, assistant city mayor responsible for education, said: "We're very pleased that the quality of our school meals has been recognised with this silver award from Food For Life.
"We will now aim for gold standard and will continue to work hard to provide tasty, nutritious meals for thousands of children every day."
Jane Faulks, head of service at City Catering, added: "This is great news for our service and we're delighted that our efforts have been recognised. We've recently launched a new range of menus and have invested in improvements at several school kitchens as part of our commitment to provide the best quality service.
"We serve around 13,000 school meals every day, with a cost of around £2.30 per meal, so we're pleased with what we've been able to achieve which we feel represents very good value for our customers."
To find out more about school meals, including how to claim free school meals, visit www.leicester.gov.uk/schoolmeals
(ends)